Hacking TiVo®: The Expansion, Enhancement and Development Starter Kit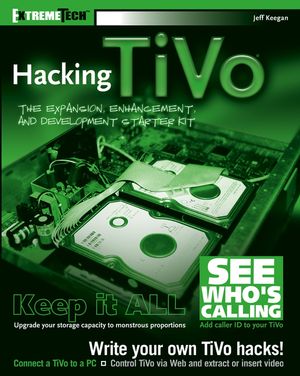 Hacking TiVo®: The Expansion, Enhancement and Development Starter Kit
ISBN: 978-0-764-54336-4
Oct 2003
528 pages
Product not available for purchase
Description
You love your TiVo. Make it love you back.

In Hacking TiVo, TiVo Underground insider Jeff Keegan blows the lid off of your TiVo, literally. Your TiVo does many wonderful things on its own; Hacking TiVo shows you how to access TiVo enhancements that you've never dreamed of.

The obvious hacks are all there, of course, including:
vastly increasing the size of your TiVo's hard drive
accessing the backdoor remote control codes
full detail on how, when, and why to use over 35 backdoor codes
adding on-screen sports scores, stock tickers and more
starting and stopping installed hacks with your remote control
hacking into the TiVo operating system.
Those hacks, while fun and interesting, just scratch the surface.

Advanced hacks covered in the book will show you how to not only connect your TiVo to the Internet, but also allow you to take control of your TiVo remotely via the Web once that connection exists. Hook your TiVo into online instant messaging services like ICQ or Instant Messenger; link it to your Caller ID; display your own photos onscreen; or insert footage from your camcorder into your TiVo.

At the heart of this book is its unique CD-ROM, which makes hacking your TiVo fast and fun. Simply insert the CD and reboot, and your PC becomes a Linux machine, pre-configured and capable of reading and writing to your TiVo hard drives. Simply follow along with the book to install the hacks one at a time, or use the CD's "install all" feature to install all of the hacks at once! This is simply the easiest CD-ROM available today for TiVo hackers.

At over 500 pages, Hacking TiVo offers more extensive, hands-on coverage of backdoor codes, video extraction, and operating system hacks than any other TiVo book available. And with more than a hundred pages of guidance on writing your own hacks, the possibilities are limited only by your imagination.

Hacking TiVo is available exclusively from Amazon.com. If you're looking for the very best book on getting the most out of your TiVo, you've come to the right place.

Your TiVo is already great. With Hacking TiVo, take your TiVo to the next level.
Acknowledgments.
Introduction.
Part I: Nervously Observing from Afar.
Chapter 1:What Is TiVo?
Chapter 2: Simple Tricks (Before Voiding Your Warranty).
Part II: Diving In (Installing Existing Hacks).
Chapter 3: Increasing Your Storage Capacity.
Chapter 4: Installing Software All at Once.
Chapter 5: Getting Access to Your TiVo.
Chapter 6: Setting Up rsync, ftpd, or NFS.
Chapter 7: TivoWeb.
Chapter 8: TiVo Control Station.
Chapter 9: Displaying Things On-Screen.
Chapter 10: Video Extraction (and Insertion).
Chapter 11: Other Miscellaneous Hacks.
Part III: Advanced Work (Going Off on Your Own).
Chapter 12: Hacking Utilities.
Chapter 13: tivosh and Playing with MFS.
Chapter 14:What's Inside.
Chapter 15: Developing Your Own Hacks.
Chapter 16: Hardware Hacks.
Appendix A: Links—References—Resources.
Appendix B: Tcl.
Appendix C: Quick Linux Primer.
Index.
End-User License Agreement.
Topsy TiVo - Your beloved TiVo, much like the human brain, functions only at partial capacity. With some help on your end, TiVo could do so much more, like display photos from your PC, act as your caller ID, and receive e-mails and instant messages. In Hacking TiVo, software engineer and TiVo expert Jeff Keegan shares the codes and tricks of the TiVo-hacking community. Some of the stuff is dense (Chapter 6: "Setting up rsync, ftpd or NFS"), and once you break into your TiVo, you void its warranty. Still, a (digital) mind is a terrible thing to waste. (Time Out New York, November 27-Dec 4, 2003)
Chapter
Page
Details
Date
Print Run
5
129
Incorrect file name
Under the section Controlling IP Addresses, there is a reference to a file called "/etc/rc.arch". This should have read "/etc/rc.d/rc.arch".
10/17/03

---
You may contact the author here.
After spending many months pouring lots of effort into the book, the author is very eager to hear people's opinions. Please feel free to send him e-mail telling him which parts you liked or even, theoretically, which parts you didn't like for some reason). You may contact the author here.
You may also go to the Amazon website for more information or to order Hacking TiVo.
You may also go to the Amazon website for more information or to order Hacking TiVo.