Hacking World of Warcraft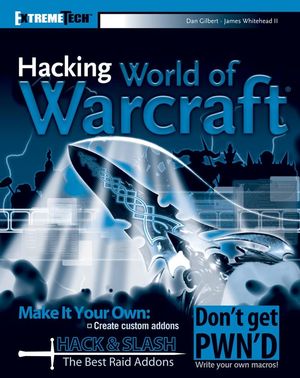 Hacking World of Warcraft
ISBN: 978-0-470-11002-7
Jun 2007
408 pages
Product not available for purchase
Description
Get crafty! Veteran WoW player and creator of the most popular World of Warcraft add-on (Atlas) Dan Gilbert guides you through making your stay in the world of Azeroth more exciting. Whether you're human, dwarf, elf, or orc, you'll feast on numerous unique hacks such as combat, artwork and model, map, interface, loot, chat, raid, PvP, and more. You'll also learn to create and use skins and themes, write your own macros, create add-ons, and work with frames and XML so that you can improve your experience with the hottest online game on the planet—planet Earth, that is.
Acknowledgments.
Introduction.
Part I: Simple Hacks: Addons, Macros, and More.
Chapter 1: Introduction to WoW Modding.
Chapter 2: Combat Addons.
Chapter 3: Map Addons.
Chapter 4: Miscellaneous Addons.
Chapter 5: Loot Addons.
Chapter 6: Chat Addons.
Chapter 7: Raid Addons.
Chapter 8: Class-Specific Addons.
Chapter 9: Addon Compilations.
Part II: Advanced Hacks: Creating Your Own Addons.
Chapter 10: Addon Anatomy.
Chapter 11: XML, Frames, and Event Handlers.
Chapter 12: The Lua Side.
Chapter 13: Expanding the Whereabouts Addon.
Chapter 14: The Whereabouts Options Panel.
Chapter 15: Hacking an Advanced Addon.
Chapter 16: Creating Advanced Macros.
Index.
Chapter
Page
Details
Date
Print Run
245
Error in Reference
ChatFrameBackground
should be:
UI-Tooltip-Background

like it is everywhere else. This error doesn't break anything though, since either will work. It's just a bit inconsistent.
06/13/07

---

317
Error in Code
The code should read:

elseif ( event == "UNIT_MANA" or event == "UNIT_RAGE" or
event == "UNIT_ENERGY" or (event == "UNIT_FOCUS" and
arg1 == "focus")) then
FocusFrameManaBar:SetValue(UnitMana("focus"));
end
01/08/2008

---