Hall-Heroult Centennial: First Century of Aluminum Process Technology, 1886 - 1986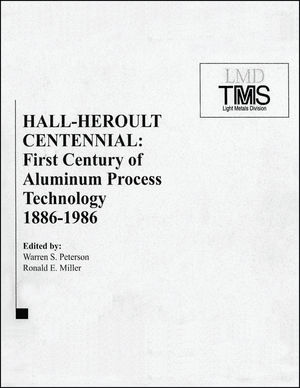 Hall-Heroult Centennial: First Century of Aluminum Process Technology, 1886 - 1986
ISBN: 978-1-118-80294-6
Oct 2013
173 pages
Description
A rich collection of insightful papers and photos gathered from the world's top aluminum companies highlight the important developments in the process metallurgy of aluminum from 1886-1986, including the electrolytic method of making aluminum, emission and waste control measures in plant operations, manufacture of carbon electrodes, methods of processing bauxite and alumina, technology for melting and casting process ingots, and processes for reclamation and recycling. Following the growth of the aluminum industry from infant to giant, this book features insight into the lives of Charles Hall and Paul HTroult, who devised a method of aluminum production that would revolutionize the industry, as well as descriptions of developments in technology, equipment, and practice in the various areas of aluminum process metallurgy.
Reduction Technology.
Carbon Technology.
Alumina Bauxite.
Cast Shop Technology.
Environmental Control.
Charles Martin Hall - The Young Man, His Mentor and His Metal.
Paul Heroult - The Man Behind the Invention.
History of Electrochemical Energy Consumption by Hall-Heroult Cells.
Evolution of Electrolytes for Hall Heroult Cells.
Gaining That Extra 2 Percent Current Efficiency.
Carbon Electrodes in the Hall-Heroult Cell: A Century of Progress.
Outlook of the Bayer Process.
Cast Shop Technology and Reclamation: 100 Years of Progress.
Fluoride Control in the Aluminum Industry: 100 Years of Technology.
Environmental Control in Our Industry - An Historical Overview.