Hallmarks of Effective Outcomes Assessment : Assessment Update Collections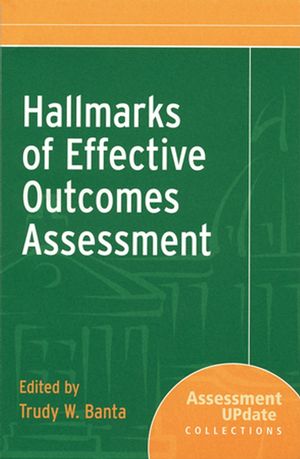 Hallmarks of Effective Outcomes Assessment : Assessment Update Collections
ISBN: 978-0-787-97288-2
Jun 2004, Jossey-Bass
72 pages
Description
Even though there is no, single, step-by-step approach for getting started in assessment, there is good solid guidance that pioneers and experienced practitioners have assembled over the years.  Now, for the first time, much of this important guidance is available in a concise, easy-to-use booklet. This booklet brings together the best guidance and practices that have appeared in the award-winning newsletter Assessment Update to illustrate time-tested principles for all aspects of assessment from planning and implementing to sustaining and improving assessment efforts over time.

The booklet details the specific hallmarks that are required for the success of any assessment program—from leadership and staff development to the assessment of processes as well as outcomes, ongoing communication among constituents, and more.  It presents a range of articles that reveal what these hallmarks look like in action and that provide examples of institution-wide approaches as well as specific strategies that have been used to ensure success and ongoing improvement.  For the reader who is new to assessment this is an excellent and easy-to-use tool for getting a good understanding of what quality assessment looks like.  For those with more experience, this booklet provides a wealth of specific strategies for improving existing programs or introducing new ones. Also, included is a matrix of hallmarks and articles, to help readers better match the articles to the hallmarks they illustrate. 

Other booklets in Assessment Update Collections

Portfolio Assessment: Uses, Cases, Scoring, and Impact

This booklet contains a wealth of information on portfolios made available for the first time in this convenient format. The articles explore how portfolios, including web-based portfolios, have been used at various institutions to assess and improve programs in general education, the major, advising, and overall institutional effectiveness. They describe ways portfolios can be scored, students; perspectives on portfolios, how portfolios changed the faculty culture at one college, and more.

Nowhere is the need for assessment methods of demonstrated value felt more strongly than at the community college.  This booklet gathers together for the first time some of the best illustrations of good practice available, addressing such issues as evaluating transfer success, assessing employer needs, community and technical college students' perceptions of student engagement, corporate partnerships in assessment, and much more.  

About Assessment Update Collections

Assessment Update Collections provide readers with information on specific areas of assessment—gathered together for the first time in a single, easy-to-use booklet format.   Specially selected by editor Trudy W. Banta from the rich archives of the award-winning newsletter Assessment Update, the articles in these booklets represent the best thinking on various topics and are chosen to ensure that readers have information that is relevant and comprehensive and illustrates effective practice. 
Buy Both and Save 25%!
Original Price:$29.90
Purchased together:$22.42
save $7.48
Cannot be combined with any other offers.
Introduction: What Are Some Hallmarks of Effective Practice in Assessment? (Trudy W. Banta).
Institution-Wide Approaches.
Toward Excellence in Outcomes Assessment: The Middle States Approach (George Santiago, Jr.).
The Syracuse Model: A Collaborative Approach to Assessment (Ronald C. Cavanagh, Franklin P. Wilbur, Peter J. Gray).
The Assessment Outcomes Program at California State University, Northridge: A Model for Program Improvement (Roberta E. Madison, Norman Fullner, Paul Baum).
Assessment of a Multidisciplinary Curriculum: The West Point Experience (James JF Forest, Bruce Keith).
Assessment at the University of Scranton (Peter J. Gray).
Specific Strategies for Advancing the Hallmarks.
That Second Look at Student Work: A Strategy for Engaging Faculty in Outcomes Assessment (Trudy W. Banta).
Lessons Learned in the Assessment School of Hard Knocks: Guidelines and Strategies to Encourage Faculty Ownership and Involvement in Outcomes Assessment (Carolyn J. Haessig, Armand S. La Potin).
Enlisting Student Aid in Assessing Department Objectives (Daniel Nelson, Kari J. Nelson).
Using Student Satisfaction Assessment Data to Influence Institutional Planning (Stephanie Juillerat, Laurie A. Schreiner).
Using Classroom-Based Assessment for General Education (Ann-Janine Morey).
Assessment and Program Review: Linking Two Processes (Dwight Smith, Douglas Eder).
"Assessment offices and faculty involved in institutional and/or program review may find it particularly useful." (Authors Journal Compilation, Winter 2007)