Ham Radio For Dummies, 2nd Edition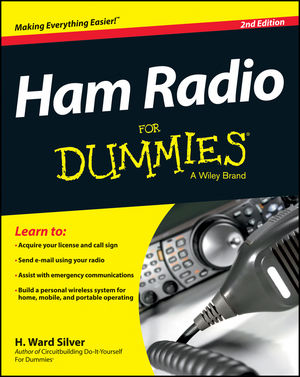 Ham Radio For Dummies, 2nd Edition
ISBN: 978-1-118-59211-3
Aug 2013
384 pages
Product not available for purchase
Description
An ideal first step for learning about ham radio
Beyond operating wirelessly, today's ham radio operators can transmit data and pictures; use the Internet, laser, and microwave transmitters; and travel to places high and low to make contact. This hands-on beginner guide reflects the operational and technical changes to amateur radio over the past decade and provides you with updated licensing requirements and information, changes in digital communication (such as the Internet, social media, and GPS), and how to use e-mail via radio.
Addresses the critical use of ham radio for replacing downed traditional communications during emergencies or natural disasters
Provides updates to all documentation of the American Radio Relay League
Explains recent changes to picking your own call sign
Places a special emphasis on the major reasons people get into amateur radio: emergency communication, digital communication, and do-it-yourself science
Looks at online mapping and charting of websites
Whether you're just getting turned on to ham radio or already have your license, Ham Radio for Dummies, 2nd Edition helps you with the terminology, the technology, and the talknology.
Introduction 1
Part I: Getting Started with Ham Radio 5
Chapter 1: Getting Acquainted with Ham Radio 7
Chapter 2: Getting a Handle on Ham Radio Technology 19
Chapter 3: Finding Other Hams: Your Support Group 31
Part II: Wading through the Licensing Process 53
Chapter 4: Figuring Out the Licensing System 55
Chapter 5: Studying for Your License 65
Chapter 6: Taking the Test 73
Chapter 7: Obtaining Your License and Call Sign 79
Part III: Hamming It Up 91
Chapter 8: Making Contact 93
Chapter 9: Casual Operating 123
Chapter 10: Operating with Intent 155
Chapter 11: Operating Specialties 173
Part IV: Building and Operating a Station That Works 215
Chapter 12: Getting on the Air 217
Chapter 13: Organizing Your Shack 255
Chapter 14: Housekeeping (Logs and QSLs) 271
Chapter 15: Hands-On Radio 277
Part V: The Part of Tens 297
Chapter 16: Ten Secrets for Beginners 299
Chapter 17: Ten Secrets of the Masters 303
Chapter 18: Ten First-Station Tips 307
Chapter 19: Ten Easy Ways to Have Fun on the Radio 311
Appendix A: Glossary 315
Appendix B: The Best References 325
Index 337
Updates
Please check back here for updates.
Chapter
Page
Details
Date
Print Run
23
List of Five Frequency Ranges
The list of five frequency ranges on page 23 is a general description of what stations and services you'll find there. The formal definition of UHF includes everything from 300 MHz to 3 GHz as shown in Figure 2-2. Traditionally, most users of the spectrum consider everything above 1 GHz to be "microwave" but if you are studying for your license, remember 300 MHz - 3 GHz as the full range for UHF.

---