Hamas: The Islamic Resistance Movement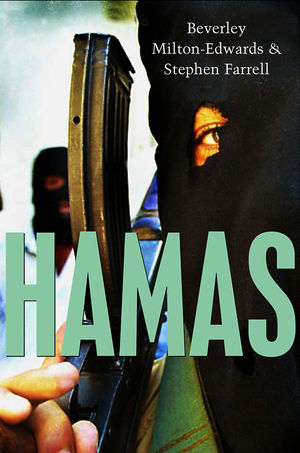 Hamas: The Islamic Resistance Movement
ISBN: 978-0-745-64295-6 April 2010 Polity 340 Pages
Download Product Flyer
Download Product Flyer
Download Product Flyer is to download PDF in new tab. This is a dummy description. Download Product Flyer is to download PDF in new tab. This is a dummy description. Download Product Flyer is to download PDF in new tab. This is a dummy description. Download Product Flyer is to download PDF in new tab. This is a dummy description.
Description
Declared a terrorist menace yet elected to government in a free election, Hamas now stands as the most important Sunni Islamist group in the Middle East.
How did Hamas grow to be so powerful? Who supports it? What is its future? This essential insight into Hamas answers these questions.
Milton-Edwards and Farrell have between them spent decades researching and reporting from the heartlands of the Hamas movement and gained unrivalled access to the world of Islamic resistance and radical Islam in its potent Palestinian form.
Drawing on their frontline experiences of recent events, their access to secret documents from the western intelligence community and interviews with leaders, militants, and commanders of Hamas' armed battalions, they reveal the full story of Hamas and the future of political Islam in the Middle East.
Milton-Edwards and Farrell show Hamas to be a broad and thus more powerful regional phenomenon than previously thought, and by doing so contend that it is now time to rethink the war and the nature of Islam and its role in the Middle East.
Beverley Milton-Edwards is Professor in the School of Politics, International Studies and Philosophy at Queens University, Belfast. She is the author of books such as Contemporary Politics in the Middle East (2006) and The Israeli-Palestinian Conflict: a People's War (2009). Prize-winning journalist Stephen Farrell is Foreign Correspondent for the New York Times and was previously Middle East correspondent for The Times.
Table of contents
Preface.
Chapter 1: We Deal with Allah Directly.
Chapter 2: In the Path of al-Qassam.
Chapter 3: Sowing.
Chapter 4: The First Intifada.
Chapter 5: Oslo and 'Vain Endeavours'.
Chapter 6: The Second Intifada.
Chapter 7: The Qassam Brigades.
Chapter 8: The Martyr Syndrome.
Chapter 9: Harvesting.
Chapter 10: Women.
Chapter 11: A House Divided.
Chapter 12: Bullet and Ballot.
Chapter 13: Hamastan.
Chapter 14: Inferno.
Chronology.
Notes.
Reviews
"Hamas paints a picture of a movement that is in equal parts brutal and pragmatic"
Middle East Quarterly

"An indispensable landmark study."
Times Literary Supplement
"Offers crucially valuable insights ... they apportion blame cautiously and pretty evenly - for which they will get no thanks from any party involved."
New Humanist
"An engaging, at times riveting, insightful and provocative analysis that is both timely and required reading for policy makers, experts and concerned citizens."
Muslim World

"For those who want to learn more about Hamas and its history, I strongly recommend a new book by Beverly Milton-Edwards and my Times colleague Stephen Farrell, Hamas."
Nicholas Kristof, New York Times
"The book's comprehensive approach touches upon all important aspects of Hamas. The reader feels as though they were sitting in the cinema and watching a narrated story about a warlord and his fierce, violent way of achieving his interest: bloody clashes with his enemies, and autocratic but generous handling of subordinates."
Central European Journal of International and Security Studies
"Stephen Farrell was sipping coffee in the office of his money changer on Salah ud-Din Street, East Jerusalem's main commercial strip, four years ago, when Beverley Milton-Edwards entered. From his rucksack, Farrell produced a copy of Milton-Edwards' book about Islamic militants.
'Your book saved my life when I was kidnapped in Iraq,' he said, referring to a brief period of captivity by militants in Baghdad in 2004 when working for The Times of London. The well-thumbed volume had given London-born Farrell, now a New York Times foreign correspondent, the background he needed to convince his kidnappers that he had studied and understood their political and religious concerns.
'That's quite an endorsement,' Milton-Edwards responded. 'Would you write that for the cover of my next book?'
Instead, he wrote an entire book with her."
Global Post
"A compelling account of an organisation dismissed as a ruthless terrorist machine in much western commentary."
Irish Times
"An instantly engaging exploration of the key historical moments and players that have shaped the development of Palestinian political Islamism. Through numerous interviews with Hamas and Fatah activists, as well as those Israelis central to their country's counter-terrorist strategy, the authors have brought Hamas' agenda to life - and it is all the more disturbing for it."
Progress
"A genuinely balanced guide through a minefield of prejudice."
Reform
"Milton-Edwards and Farrell get inside the mind of Hamas, the blood-soaked Islamic movement which cannot be ignored and which casts a shadow well beyond the gritty streets of Gaza. They track Hamas from bullets to ballot box, probing its origins and motivations. An important study of a key player in the Middle East."
Orla Guerin, award-winning former Middle East correspondent for the BBC

"Dubbed terrorists by the West for its horrific suicide bombings, Hamas stunned the world when it won one of the only free elections in the Arab world. In this fast-paced and clear-headed narrative, Farrell and Milton-Edwards blend frontline reportage with deep historical insight to tell a compelling tale of how a quadriplegic visionary with no formal clerical training led a band of lay preachers to found one of the most powerful Islamic movements in the Middle East."
James Hider, author of 'The Spiders of Allah' and Middle East Bureau Chief of The Times
"A compelling account of the origins and rise of Hamas. Through a wealth of original reporting stretching back many years, the authors break new ground as they explore the characters and thinking behind this increasingly influential Palestinian Islamist movement. It is a chastening tale, expertly told."
Rory McCarthy, Middle East correspondent, The Guardian
"Beverley Milton-Edwards and Stephen Farrell's Hamas is an engaging, at times riveting, insightful and provocative analysis that is both timely and required reading for policymakers, experts and concerned citizens. Few Islamic movements have been and continue to be more controversial and influential than Hamas as a militia and major political party and force in the Palestinian-Israeli conflict. "
John L. Esposito, Georgetown University, author of The Future of Islam and co-author of Who Speaks for Islam? What a Billion Muslims Really Think

"Hamas remains one of the main Islamist organizations of the Arab world and while it is squarely located in Palestine, the power of its message and the audacity of its activities, as well as its role in the wider Arab-Israeli conflict, give it a status, voice and influence that is well beyond its currently narrow administrative base in the Gaza Strip. In this book, Milton-Edwards and Farrell not only provide a solid analysis of this organization but apply their considerable expertise to also show that the rest of the world ignores it at its peril."
Anoush Ehteshami, author of Globalization and Geopolitics in the Middle East

"Few understand Hamas like the authors of this fine work. Combining deep on the ground investigation with powerful analysis, fascinating, reasonable and readable, it should be compulsory reading for policymakers, strategists, those who believe themselves to be experts, in short for all those interested in these critical protagonists in this critical region."
Jason Burke, author of Al-Qaeda: the True Story of Radical Islam
"This is the essential book on the Palestinian Islamist movement, Hamas. Drawing on decades of experience and meetings with the founders of Hamas (like assassinated leaders Sheikh Ahmad Yassin and Abdul Aziz Rantisis) as well as its current leadership, the authors provide a compelling portrait of Hamas as a nationalist party, a social welfare network, as well as a violent resistance organization. Engagingly written, this book makes abundantly clear why there is no solution to the Israel-Palestine conflict without Hamas."
Eugene Rogan, Director, The Middle East Centre, St Antony's College
"In this exceptional book, Beverley Milton-Edwards and Stephen Farrell examine the emergence of Hamas, its ideological underpinnings and the extent to which its very ideological basis now has to compromise with changing realities. This is an important book, ambitious both in its conceptual underpinnings and in the new material it offers us in understanding perhaps the most dynamic popular movement to have emerged out of the crucible of the Israel-Palestine conflict in the last fifty years."
Clive Jones, University of Leeds
Features
• Groundbreaking study of the most important Sunni Islamist group in the Middle East
• Written by authors who have spent decades researching and reporting from the heartlands of the Hamas movement and gained unrivalled access to the world of Islamic resistance and radical Islam.
• Draws on the authors' frontline experiences of recent events, their access to secret documents from the western intelligence community and interviews with leaders, militants, and commanders of Hamas' armed battalions
• Offers a vivid and uniquely balanced picture of Hamas and its members, methods and future in the Middle East
• Includes 3 maps and 18 original photographs taken by Stephen Farrell over recent years