Hamsters For Dummies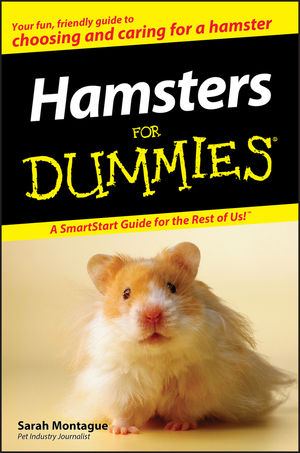 Hamsters For Dummies
ISBN: 978-1-118-06829-8 April 2011 100 Pages
Description
The fun and easy way to care for a cute, cuddly hamster
Hamsters are the most popular rodents kept as pets. Hamsters For Dummies helps those owners who have little or no experience caring for this small mammal. This book covers selecting a healthy hamster, health care and nutrition, and housing and supplies. Readers will also find information on training and playing with hamsters.
Chapter 1: Hankering for a Hamster.
Chapter 2: Is a Hamster Your Perfect Pet?
Chapter 3: Selecting a Hamster,
Chapter 4: C'mon In: Setting Up Your Hamster's Home and getting Him There Safely.
Chapter 5: Noshes, Nibbles, and Nuzzles: Caring for Your Hamster.
Chapter 6: Baby, What's Your Sign? Getting to Know Your Hamster.
Chapter 7: In the Pink: Hamster Health and Breeding Issues.
The Hams Are Out There: Ten Interesting Hamster Web Sites.
Condensed Hamsters: Ten Common Questions.
Index.