Hand-Rearing Birds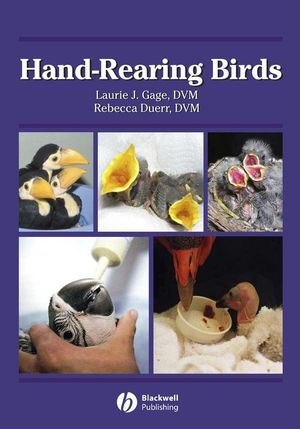 Hand-Rearing Birds
ISBN: 978-0-813-80666-2 October 2007 Wiley-Blackwell 456 Pages
Description
Hand-Rearing Birds will provide the reader with a guide to the best methods of hand rearing all major species of birds. The book is broken into two sections. The first section covers standard hand raising methods and equipment, while the second provides individual chapters devoted to many major avian species. This book will be an invaluable reference for shelter veterinarians, zoo veterinarians, avian veterinarians, aviculturists, bird enthusiasts, and conservationists alike.
1. General Care.
2. Chick Identification.
3. Incubation of Eggs.
4. Ratites.
5. Penguins.
6. Grebes.
7. Pelicans.
8. Flamingos.
9. Shorebirds.
10. Gulls and Terns.
11. Alcids.
12. Ducks, Geese, and Swans.
13. Eagles.
14. Hawks, Falcons, Kites, Osprey, and New World Vultures.
15. Condors.
16. Herons and Egrets.
17. Domestic Poultry.
18. Wild Turkeys, Quail, Grouse, and Pheasants.
19. Cranes.
20. Pigeons and Doves.
21. Parrots.
22. Lorikeets.
23. Roadrunners.
24. Owls.
25. Goatsuckers.
26. Turacos.
27. Hummingbirds.
28. Swifts.
29. Mousebirds.
30. Hornbills, Kingfishers, Hoopoes, and Bee-eaters.
31. Woodpeckers.
32. Toucans.
33. Corvids.
34. Passerines: Hand-feeding Diets.
35. Passerines: Finches, Goldfinches, and Sparrows.
36. Passerines: American Robins, Mockingbirds, Thrashers, Waxwings, and.
Bluebirds.
37. Passerines: Swallows, Bushtits, and Wrens.
38. Passerines: Exotic Finches.
Appendix I. Important Contacts.
Appendix II. Nutritional Tables.
Appendix III. Resources for Products Mentioned
"Wildlife rehabilitators across the nation are probably as pleased as I am to see this book now available... there are tips that may be new even to those with a lot of experience in avian hand-rearing. The depth of detail for each species is complete enough that this book could serve as a sole reference text for a rehabilitator. Any facility that sees and raises many types of birds needs to have this book. I strongly recommend this for rehabilitators and veterinarians who deal with many types of avian patients." -
Exotic DVM Magazine
"What a joy it is to have this remarkable resource at my fingertips. Time after time and bird after baby bird, you have come to my rescue. New orphan? No problem! All the pertinent information is there for the neophyte and the old pro alike. I can't recommend Hand Rearing Birds enough." - Sea Biscuit Wildlife Shelter, August 2008
● Covers both general hand-raising methods and species-specific information
● Chapters written by species-specific hand rearing experts
● Coverage of all major species