Handbook of ATPases: Biochemistry, Cell Biology, Pathophysiology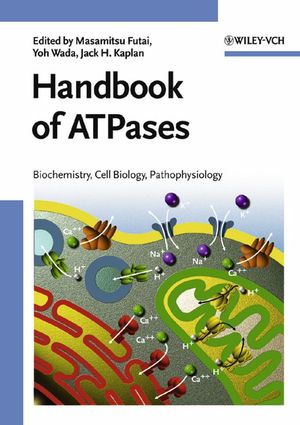 Handbook of ATPases: Biochemistry, Cell Biology, Pathophysiology
ISBN: 978-3-527-60628-3 January 2006 493 Pages
Description
ATP-dependent active ion transport enables cells to regulate their pH value and to control their ion composition. The reverse process, transforming an ion imbalance into chemical energy, drives mitochondrial and chloroplast ATP synthesis. The mediators of these fundamental processes are ion-motive ATPases, highly conserved enzymes that play key roles in cell physiology from bacteria to man.
As the first comprehensive overview of this important class of enzymes, this handbook summarizes recent knowledge about the molecular mechanism of ATPases, relating this information to the physiology and pathopyhsiology of ion transport, mitochondrial function, vesicle transport and lysosomal acidification. All important P-type, F-type and V-type ATPases are treated systematically, complemented by a special section on the cell biology and physiology of acidic compartments, and backed by an extensive bibliography and index.
This premier reference source for physiologists, molecular biologists, biophysicists and clinical researchers contains contributions by the world's foremost ATPase research groups.

Preface.
List of Contributors.
PART I: P-TYPE ATPASES.
1. Yeast plasma-membrane H+-ATPase: Model System for Studies of Structure, Function, Biogenesis and Regulation (S. Lecchi & C. Slayman).
2. Regulation of the Sarco(endo)plasmic Reticulum Ca2+-ATPase by Phospholamban and Sarcolipin (D. McLennan & E. Kranias).
3. Catalysis and Transport Mechanism of the Sarco-(Endo)Plasmic Reticulum Ca2+-ATPase (SERCA) (G. Inesi & C. Toyoshima).
4. The Na,K-ATPase: A Current Overview (J. Kaplan).
5. Copper-Transporting ATPases: Key Regulators of Intracellular Copper Concentration (R. Tsivkovskii, et al.).
6. Bacterial Transport ATPases for Monovalent, Divalent and Trivalent Soft Metal Ions (M. Wong, et al.).
7. Gastric H+,K+-ATPase (J. Shin, et al.).
8. Plasma Membrane Calcium Pumps (E. Carafoli, et al.).
PART II: F-TYPE ATPASES.
9. Proton Translocating ATPases: Introducing Unique Enzymes Coupling Catalysis and Proton Translocation through Mechanical Rotation (M. Futai, et al.).
10. Rotation of F1-ATPase (E. Muneyuki & M. Yoshida).
11. Coordinating Catalysis and Rotation in the F1-ATPase (R. Nakamoto, et al.).
12. ATP Synthase Stalk Subunits b, ð and e: Structures and Functions in Energy Coupling (S. Dunn, et al.).

PART III: V-TYPE ATPASES.
13. Structure, Mechanism and Regulation of the Yeast and Coated Vesicle V-ATPases (E. Shao & M. Forgac).
14. Role of the V-ATPase in the Cellular Physiology of the Yeast Saccharomyces cerevisiae (L. Graham, et al.).
15. Vacuolar-Type Proton ATPases: Subunit Isoforms and Tissue-Specific Functions (G. Sun-Wada, et al.).
PART IV: CELL BIOLOGY AND PATHOPHYSIOLOGY OF ATPASES AND THEIR COMPARTMENTS.
16. Physiological Role of Na,K-ATPases Isoforms (J. Lingrel, et al.).

17. Renal V-ATPase: Physiology and Pathophysiology (D. Brown & V. Marshansky).
18. Lytic Function of Vacuole and Molecular Dissection of Autophagy in Yeast (Y. Ohsumi).
Index.
"This book comprehensive covers the three types of ion pumping ATPases…very useful for researchers in the ATPase field." (E-STREAMS, May 2005)