Handbook of Acoustics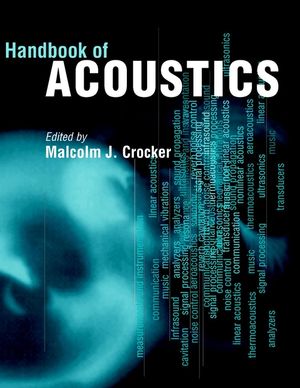 Handbook of Acoustics
ISBN: 978-0-471-25293-1 March 1998 1488 Pages
Description
Acoustical engineers, researchers, architects, and designers need a comprehensive, single-volume reference that provides quick and convenient access to important information, answers and questions on a broad spectrum of topics, and helps solve the toughest problems in acoustical design and engineering. The Handbook of Acoustics meets that need. It offers concise coverage of the science and engineering of acoustics and vibration.
In more than 100 clearly written chapters, experts from around the world share their knowledge and expertise in topics ranging from basic aerodynamics and jet noise to acoustical signal processing, and from the interaction of fluid motion and sound to infrasound, ultrasonics, and quantum acoustics. Topics covered include:
* General linear acoustics
* Nonlinear acoustics and cavitation
* Aeroacoustics and atmospheric sound
* Mechanical vibrations and shock
* Statistical methods in acoustics
* Architectural acoustics
* Physiological acoustics
* Underwater sound
* Ultrasonics, quantum acoustics, and physical aspects of sound
* Noise: its effects and control
* Acoustical signal processing
* Psychological acoustics
* Speech communication
* Music and musical acoustics
* Acoustical measurements and instrumentation
* Transducers
The Handbook of Acoustics belongs on the reference shelf of every engineer, architect, research scientist, or designer with a professional interest in the propagation, control, transmission, and effects of sound.
Buy Both and Save 25%!
Original Price:$525.00
Purchased together:$393.75
save $131.25
Cannot be combined with any other offers.
Partial table of contents:
GENERAL LINEAR ACOUSTICS.
Ray Acoustics for Fluids (D. Weston).
Waveguides (P. Davies).
Transient Radiation (P. Stepanishen).
NONLINEAR ACOUSTICS AND CAVITATION.
Cavitation (W. Lauterborn).
AEROACOUSTICS AND ATMOSPHERIC SOUND.
Infrasound (T. Gabrielson).
UNDERWATER SOUND.
Ocean Ambient Noise (I. Dyer).
Sonar Systems (J. Barger).
ULTRASONICS, QUANTUM ACOUSTICS, AND PHYSICAL EFFECTS OF SOUND.
Ultrasonic Velocity (J. Cantrell & W. Yost).
Thermoacoustic Engines (G. Swift).
MECHANICAL VIBRATIONS AND SHOCK.
Random Vibration (D. Newland).
Acoustic Emission (K. Ono).
STATISTICAL METHODS IN ACOUSTICS.
Response Statistics of Rooms (M. Tohyama).
NOISE: ITS EFFECTS AND CONTROL.
Airport Noise (K. Eldred).
ARCHITECTURAL ACOUSTICS.
Sound in Enclosures (K. Kuttruff).
ACOUSTICAL SIGNAL PROCESSING.
Statistical Theory of Acoustic Signals (A. Piersol).
PHYSIOLOGICAL ACOUSTICS.
Acoustical Characteristics of the Outer Ear (E. Shaw).
PSYCHOLOGICAL ACOUSTICS.
Auditory Masking (S. Buus).
Loudness (B. Scharf).
SPEECH COMMUNICATION.
Acoustical Analysis of Speech (G. Fant).
MUSIC AND MUSICAL ACOUSTICS.
Brass Instruments (J. Bowsher).
ACOUSTICAL MEASUREMENTS AND INSTRUMENTATION.
Analyzers (J. Pope).
TRANSDUCERS.
Loudspeaker Design (B. Starobin).
Index.