Handbook of Adolescent Psychology, 2nd Edition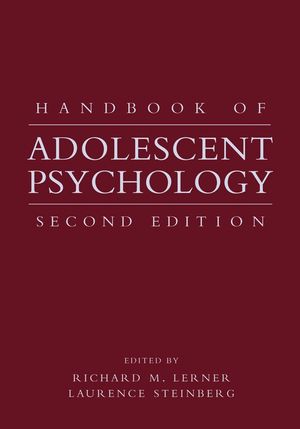 Handbook of Adolescent Psychology, 2nd Edition
ISBN: 978-0-471-69044-3
May 2004
864 pages
Description
The study of adolescence in the field of psychology has grown tremendously over the last two decades, necessitating a comprehensive and up-to-date revision of this seminal work. This multidisciplinary handbook, edited by the premier scholars in the field, Richard Lerner and Laurence Steinberg, and with contributions from the leading researchers, reflects the latest empirical work and growth in the field.
Contributors.
Foreword.
Preface.
1. The Scientific Study of Adolescent Development: Past, Present, and Future.
PART ONE: FOUNDATIONS OF THE DEVELOPMENTAL SCIENCE OF ADOLESCENCE.
2. Puberty and Psychological Development.
3. Cognitive and Brain Development.
4. Socialization and Self-Development: Channeling, Selection, Adjustment, and Reflection.
5. Schools, Academic Motivation, and Stage-Environment Fit.
6. Moral Cognitions and Prosocial Responding in Adolescence.
7. Sex.
8. Gender and Gender Role Development in Adolescence.
9. Processes of Risk and Resilience During Adolescence: Linking Contexts and Individuals.
PART TWO: SOCIAL RELATIONSHIPS AND SOCIAL CONTEXTS IN ADOLESCENCE.
10. Adolescence Across Place and Time: Globalization and the Changing Pathways to Adulthood.
11. Parent-Adolescent Relationships and Influences.
12. Adolescents' Relationships with Peers.
13. Contexts for Mentoring: Adolescent-Adult Relationships in Workplaces and Communities.
14.Work and Leisure in Adolescence.
15. Diversity in Developmental Trajectories Across Adolescence: Neighborhood Influences.
16. Adolescents and Media.
17. The Legal Regulation of Adolescence.
PART THREE: ADOLESCENT CHALLENGES, CHOICES, AND POSITIVE YOUTH DEVELOPMENT.
18. Adolescent Health from an International Perspective.
19. Internalizing Problems During Adolescence.
20. Conduct Disorder, Aggression, and Delinquency.
21. Adolescent Substance Use.
22. Adolescents with Developmental Disabilities and Their Families.
23. Volunteerism, Leadership, Political Socialization, and Civic Engagement.
24. Applying Developmental Science: Methods, Visions, and Values.
25. Youth Development, Developmental Assets, and Public Policy.
Afterword: On the Future Development of Adolescent Psychology.
Author Index.
Subject Index.
N/A
Edited by the most widely noted scholars in the field of adolescent psychology
Interdisciplinary volume containing information drawn from sociology, biology, education, neuroscience, and law sciences.
Latest trends and information of adolescence are covered