Handbook of Alternative Assets, 2nd Edition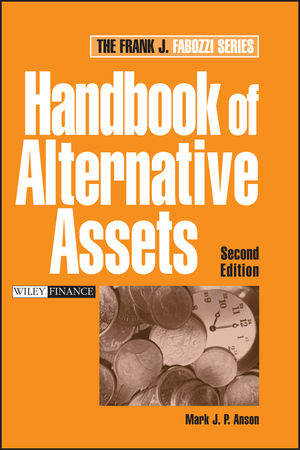 Handbook of Alternative Assets, 2nd Edition
ISBN: 978-0-470-08922-4
Apr 2008
720 pages
Description
Since the first edition of the Handbook of Alternative Assets was published, significant events-from the popping of the technology bubble and massive accounting scandals to recessions and bear markets-have shifted the financial landscape. These changes have provided author Mark J. P. Anson with an excellent opportunity to examine alternative assets during a different part of the economic cycle than previously observed in the first edition.

Fully revised and updated to reflect today's financial realities, the Handbook of Alternative Assets, Second Edition covers the five major classes of alternative assets-hedge funds, commodity and managed futures, private equity, credit derivatives, and corporate governance-and outlines the strategies you can use to efficiently incorporate these assets into any portfolio. Throughout the book, new chapters have been added, different data sources accessed, and new conclusions reached.

Designed as both an introduction to the world of alternative assets and as a reference for the active investor, the Handbook of Alternative Assets, Second Edition will help you match alternative assets with your various investment goals.
Preface.
About the Author.
PART ONE: Overview of Alternative Assets.
Chapter 1: What Is an Alternative Asset Class?
Chapter 2: Why Alternative Assets Are Important: Beta Drivers and Alpha Drivers.
PART TWO: Hedge Funds.
Chapter 3: Introduction to Hedge Funds.
Chapter 4: Establishing a Hedge Fund Investment Program.
Chapter 5: Due Diligence for Hedge Fund Managers.
Chapter 6: Risk Management Part I: Hedge Fund Return Distributions.
Chapter 7: Risk Management Part II: Additional Hedge Fund Risks.
Chapter 8: Regulation of Hedge Funds.
Chapter 9: Hedge Fund Benchmarks and Asset Allocation.
Chapter 10: Hedge Fund Incentive Fees and the "Free Option."
Chapter 11: Top Ten Hedge Fund Quotes.
PART THREE: Commodities and Managed Futures.
Chapter 12: Introduction to Commodities.
Chapter 13: Investing in Commodity Futures.
Chapter 14: Commodity Futures in a Portfolio Context.
Chapter 15: Managed Futures.
PART FOUR: Private Equity.
Chapter 16: Introduction to Venture Capital.
Chapter 17: Introduction to Leveraged Buyouts.
Chapter 18: Debt as Private Equity Part I: Mezzanine Debt.
Chapter 19: Debt as Private Equity Part II: Distressed Debt.
Chapter 20: The Economics of Private Equity.
Chapter 21: Performance Measurement for Private Equity.
Chapter 22: Trends in Private Equity.
PART FIVE: Credit Derivatives.
Chapter 23: Introduction to Credit Derivatives.
Chapter 24: Collateralized Debt Obligations.
Chapter 25: Collateralized Fund Obligations: Intersection of Credit Derivative Market and Hedge Fund World.
PART SIX: Corporate Governance.
Chapter 26: Corporate Governance as an Alternative Investment Strategy.
INDEX.