Handbook of Analytical Derivatization Reactions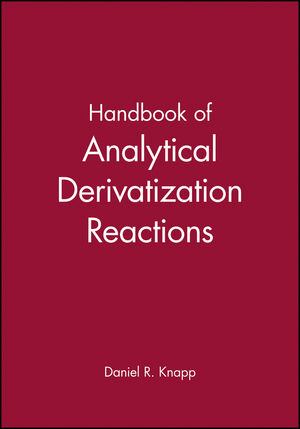 Handbook of Analytical Derivatization Reactions
ISBN: 978-0-471-03469-8
Sep 1979
768 pages
Description
Brings together practical information previously available only in numerous separate sources. Handbook of Analytical Derivation Reactions begins with an overview of analytical derivatization with a section on apparatus. Describes analytical derivatization methods organized according to the sample to be derivatized. Discussion of methods includes derivative type, reagent, sample type, reaction, and typical procedure with comments and references for each.
Introduction: Uses of Analytical Derivatization.

Derivative Types and Reagents.

General Considerations in Analytical Derivatization.

Apparatus for Analytical Derivatization.

Derivatization of Particular Compound Types: Hydroxyl, Sulfhydryl, and Epoxy Compounds.

Amino Compounds.

Carboxylic Acids.

Unsaturated, Cyclopropane, and Methyl Branched Fatty Acids: Derivatives for Determination of Substituent Location.

Amino Acids and Peptides.

Aldehydes and Ketones.

Nitrogen Functional Groups Other than the Amino Group.

Phospho and Sulfo Compounds.

Derivatives for Chromatographic Separation of Optical Isomers.

Fatty Lipids.

Steroids, Prostaglandins and Related Compounds.

Carbohydrates.

Nucleotides, Their Constituents, and Related Compounds.

Drugs.

Appendices.

Indexes.