Handbook of Applied Dog Behavior and Training, Volume 3, Procedures and Protocols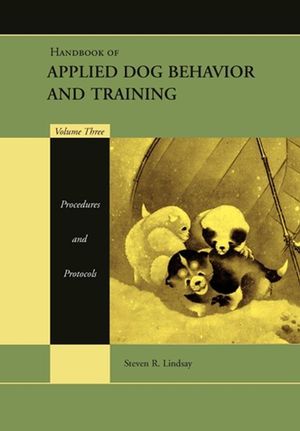 Handbook of Applied Dog Behavior and Training, Volume 3, Procedures and Protocols
ISBN: 978-0-470-34451-4 January 2008 Wiley-Blackwell 816 Pages
Description
The Handbook of Applied Dog Behavior and Training series provides a coherent and integrated approach to understanding and controlling dog behavior. In Volume 3, various themes introduced in Volumes 1 and 2 are expanded upon, especially causally significant social, biological, and behavioral influences that impact on the etiology of behavior problems and their treatment. Ethological observations, relevant behavioral and neurobiological research, and dog behavior clinical findings are reviewed and critiqued in detail. Many of the training concepts, procedures, and protocols described have not been previously published, making this book a unique contribution to dog behavior and training literature.
Table of contents
Preface.
Acknowledgments.
Cynopraxic Training: Basic Procedures and Techniques.
House Training, Destructive Behavior, and Appetitive Problems.
Fears and Phobias.
Separation Distress and Panic.
Compulsive and Hyperactive Excesses.
Neurobiology and Development of Aggression.
Canine Domestic Aggression.
Impulsive, Extrafamilial, and Intraspecific Aggression.
Biobehavioral Monitoring and Electronic Control of Behavior.
Cynopraxis: Theory, Philosophy, and Ethics.
A. Sit-Stay Program.
B. Sit, Down, Stand, and Stay Practice Variations.
C. Posture-Facilitated Relaxation (PFR) Training.
D. Puppy Temperament Testing and Evaluation.
Index.
Reviews
"Educators and students alike are constantly searching for the perfect balance of depth and breadth in a text, attempting to find the single source that will simplify their lives. Some texts are research dense but narrowly focused. Others cover a broad spectrum of topics in a given area but do not go into the related research in any depth. When it comes to dog behavior, Steven Lindsay's Handbook of Applied Dog Behavior and Training may indeed be "just right."
Journal of Veterinary Medical Education, 2001, 28:43.

"This is one of the most comprehensive books on the subject of dog behavior I have seen; it covers a vast amount of information."

The Veterinary Record, November, 2001, 10:597.

"It is difficult to overstate the importance of this book to those engaged in the field of dog behavior and training."

The Canadian Veterinary Journal, 2001, 42:567-568

"The two volumes of Handbook of Applied Dog Behavior and Training are a magnum opus, by any definition."

Applied Animal Behavior Science, 2003, 82:339-344