Handbook of Battery Materials, 2 Volume Set, 2nd Edition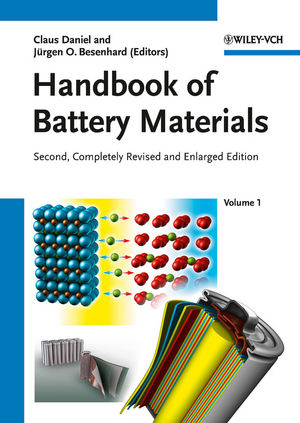 Handbook of Battery Materials, 2 Volume Set, 2nd Edition
ISBN: 978-3-527-63719-5
Dec 2012
1023 pages
Description
A one-stop resource for both researchers and development engineers, this comprehensive handbook serves as a daily reference, replacing heaps of individual papers.
This second edition features twenty percent more content with new chapters on battery characterization, process technology, failure mechanisms and method development, plus updated information on classic batteries as well as entirely new results on advanced approaches.
The authors, from such leading institutions as the US National Labs and from companies such as Panasonic and Sanyo, present a balanced view on battery research and large-scale applications. They follow a distinctly materials-oriented route through the entire field of battery research, thus allowing readers to quickly find the information on the particular materials system relevant to their research.

I. FUNDAMENTALS AND GENERAL ASPECTS OF ELECTROCHEMICAL ENERGY STORAGE
Thermodynamics and Mechanistics
Practical Batteries
Global Competition of Primary and Secondary Batteries
II. MATERIALS FOR AQUEOUS ELECTROLYTE BATTERIES
Structural Chemistry of Manganese Dioxide and Related Compounds
Electrochemistry of Manganese Oxides
Nickel Hydroxides
Lead Oxides
Bromine-Storage Materials
NaS Materials
Metallic Negatives
Metal Hydride Electrodes
Carbons
Separators
III. MATERIALS FOR ALKALI METAL BATTERIES
The Structural Stability of Transition Metal Oxide Insertion Electrodes for Lithium Batteries
Overcharge-Protected Oxide Cathodes
Rechargeable Lithium Anodes
Lithium Alloy Anodes
Lithiated Carbons
The Anode/Electrode Interface
Liquid Nonaqueous Electrolytes
Polymer Electrolytes
Solid Electrolytes
Separators for Lithium-Ion Batteries
Materials for High Temperature Batteries
IV. PERFORMANCE AND TECHNOLOGY DEVELOPMENT FOR BATTERIES
Simulation and Modeling of Battery systems
Failure Mechanisms, Mechanical Properties, and Advanced in-situ Characterization Methods
Battery Safety
Battery Manufacturing and Economic Aspects

The second edition of the successful "Handbook of Battery Materials" covers more materials and more applications, reflecting the tremendous progress in the field of the last decade. In addition, as portable electronic devices have become abundant and research into alternative drivetrains intensifies, the commercial potential of modern batteries receives its due attention.
"On the whole, this handbook is certainly suitable not only for Ph.D. students freshly entering the field, but moreover for scientists and engineers who already have some experience with battery research, development, and applications."  (Energy Technology, 1 August 2013)
"Nevertheless the book is a must for any university and research library where research in electrochemical energy conversion and storage is in the focus of research and development."  (Journal Solid State Electrochem, 1 May 2013)