Handbook of Biomineralization: Biomimetic and Bioinspired Chemistry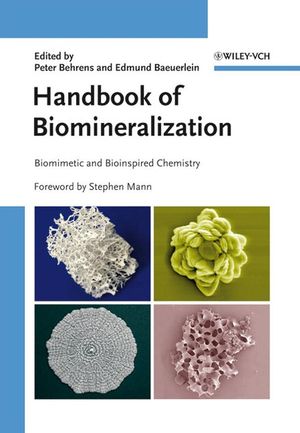 Handbook of Biomineralization: Biomimetic and Bioinspired Chemistry
ISBN: 978-3-527-31805-6
Sep 2009
443 pages
Description
This first comprehensive overview of the modern aspects of biomineralization represents life and materials science at its best: Bioinspired pathways are the hot topics in many disciplines and this holds especially true for biomineralization.
Here, the editors -- well-known members of associations and prestigious institutes -- have assembled an international team of renowned authors to provide first-hand research results.
This second volume deals with biometic model systems in biomineralization, including the biomineral approach to bionics, bioinspired materials synthesis and bio-supported materials chemistry, encapsulation and the imaging of internal nanostructures of biominerals.
An interdisciplinary must-have account, for biochemists, bioinorganic chemists, lecturers in chemistry and biochemistry, materials scientists, biologists, and solid state physicists.
BIOMETIC MODEL SYSTEMS IN BIOMINERALIZATION
Biomimetic Confined Media for Silica Nanoparticle Growth (Onion Phases;
Typ I Collagen)
The Polyamine Silica System: A Biomimetic Model for the Biomineralization of Silica
Solid-state NMR in Biomimetic Silica Formation and Silica Biomineralization
Mesocrystals: Examples of Non-classical Crystallisation
Model Studies on Calcium Carbonate Biomineralization
The Hierarchical Architecture of Nacre and its Mimetic Material
Avian Eggshell as Template for Biomimetic Synthesis of New Materials
Biomimetic Mineralization and Scanning Force Modulation Microscopy Studies of Self-assembled Protein Fibres
Model Systems for Formation and Dissolution of Calcium Phosphate Mineralization
Biomimetic Formation of Magnetite Nanoparticles
THE BIOMINERAL APPROACH TO BIONICS
Bionic Principles to be Learned from Biominerals
BIO-INSPIRED MATERIALS SYNTHESIS
Using Ice to Mimic Nacre: From Structural Applications to Artificial Bone
Molecular Biomimetics: Genetically Engineered Polypeptides for Functional Materials Assembly
Bio-inspired Construction of Silica Surface Patterns
Template Surface for the Formation of Calcium Carbonate and Silica
BIO-SUPPORTED MATERIALS CHEMISTRY
Inorganic Preforms of Biological Origin: Shape-preserving Reactive Conversion of Biosilica Microshells (Diatoms)
Organic Preforms of Biological Origin: Natural Plants Tissues as Templates for Inorganic and Zeolithic Macrostructures
"Bio-casting": Biomineralized Skeletons as Templates for Macroporous Structures
PROTEIN CAGES AS SIZE-CONSTRAINED REACTION VESSELS
Biomimetic Synthesis of Metal Oxides Using Ferritin, Ferritin-like Proteins and a Chemically Modified Virus (CCMV)
Genetically Engineered Protein Cages for Nanomaterials Synthesis
The Tobacco Mosaic Virus as Template
ENCAPSULATION
Microencapsulation by Silica-alginate Composites
IMAGING OF INTERNAL NANOSTRUCTURES OF BIOMINERALS
Energy-variable X-ray Diffraction with High Depth Resolution Used for Seashells Analysis
X-ray Phase Microradiography and X-ray Absorption Micro-computed Tomography, Compared in Studies of Biominerals