Handbook of Biomineralization: Medical and Clinical Aspects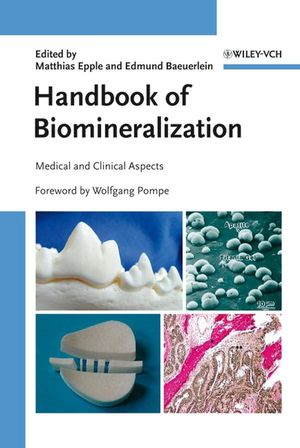 Handbook of Biomineralization: Medical and Clinical Aspects
ISBN: 978-3-527-31806-3 September 2009 424 Pages
Description
This first comprehensive overview of the modern aspects of biomineralization represents life and materials science at its best: Bioinspired pathways are the hot topics in many disciplines and this holds especially true for biomineralization.
Here, the editors - well-known members of associations and prestigious institutes - have assembled an international team of renowned authors to provide first-hand research results.
This third volume deals with biomineralization in medicine, paying closer attention to bones, teeth and pathological calcifications.
An interdisciplinary must-have account, for biochemists, bioinorganic chemists, lecturers in chemistry and biochemistry, materials scientists, biologists, and solid state physicists.
BONE
Mineralization of Bone: An Active or Passive Process?
Bone Morphogenetic Proteins
Biomechanics of Bone: Finite Element Analysis and Mechanosensation of Bone
Direct X-ray Scattering Measurement of Internal Stresses and Strains in Loaded Bones
Osteoporosis and Osteopetrosis
Clinical Treatment of Bone Defects
Bone Substitution Materials
Simulated Body Fluid (SBF) as a Standard Tool to Test the Bioactivity of Implants
Stimulation of Bone Growth on Implants by Integrin Ligands
Biochemical and Pathological Responses of Cells and Tissue to Micro- and Nanoparticles from Titanium and Other Materials
Tissue Engineering of Bone
Analytical Techniques in Bone Tissue Engineering
TEETH
Formation of Teeth
Structure of Teeth: Human Enamel Crystal Structure
Biomechanical Adaptions of Whole Teeth
Clinical Aspects of Tooth Diseases and Their Treatment
Caries
Peridontal Regeneration
Tissue Engineering of Teeth
PATHOLOGICAL CALCIFICATION
Clinical Aspects of Pathological Calcifications
Atherosclerosis: Cellular Aspects
Biological and Cellular Role of Fetuin Family Proteins in Biomineralization
Stone Formation
Ectopic Mineralization
Pathological Calcification of Heart Valve Bioprostheses
Biomat.net