Handbook of Bioplastics and Biocomposites Engineering Applications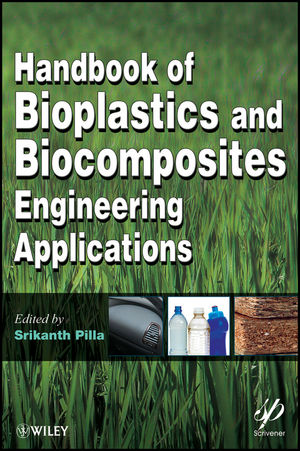 Handbook of Bioplastics and Biocomposites Engineering Applications
ISBN: 978-0-470-62607-8
Jul 2011
620 pages
Description
In today's world, bioplastics are becoming increasingly prominent owing mainly to scarcity of oil, increase in the cost of petroleum-based commodities, and growing environmental concerns with the dumping of non-biodegradable plastics in landfills. This book summarizes the field of bioplastics by illustrating how they form a unique class of research area that integrates pure and applied sciences such as chemistry, engineering and materials science, to initate solutions. Compelling science demystics this complex and often ambiguous branch of study for benefit of all those concerned with bioplastics.
Foreword by Amar Mohanty.
Part 1. Introduction.
Chapter 1. Bioplastics and Biocomposites and Their Applications: A Overview (Srikanth Pilla).
Part 2. Processing of Bioplastics and Biocomposites.
Chapter 2. The Handling of Various Forms of Dry Ingredients in Bioplastics Manufacturing and Processing Applications (Andy Kovats).
Chapter 3. Modeling the Processing of Natural Fiber Composites Made Using Liquid Composite Molding (Krishna M. Pillai).
Part 3. Engineering Applications of Bioplastics & Biocomposites.
Packaging Applications.
Chapter 4. Bioplastic Based Nanocomposites for Packaging Applications (Patricia Krawczak).
Chapter 5. Biobased Materials in Food Packaging Applications (Siddaramaiah).
Chapter 6. PLA Foams for Packaging Applications (Kate Parker).
Chapter 7. Polyvinyl Modified Guar-gum Bioplastics for Packaging Applications (Ashutosh Tiwari).
Chapter 8. Starch Based Composites for Packaging Applications (K. M. Gupta).
Chapter 9. Vegetable Oil-based Rigid Foam Composites (Chad Ulven).
Chapter 10. Sustainable Biocomposites Based for Construction Applications (Hazizan Akil).
Chapter 11. Starch as a Biopolymer in Construction and Civil Engineering (Chandan Datta).
Chapter 12. Cellulose Based Green Bioplastics for Biomedical Engineering (Ajay Mishra).
Chapter 13. Chitin and Chitosan Polymer Nanofibrous Membranes and Their Biological Applications (Ahsanulhaq Qurashi).
Automotive Applications.
Chapter 14. Microcellular Processed PHBV Foams for Automotive Applications (Alireza Javadi & Shaoqin Gong).
Chapter 15. Bioplastics and Vegetal Fibre Reinforced Bioplastics in Automotive Applications (Patricia Krawczak).
General Engineering Applications.
Chapter 16. Cellulose Nanofibers Reinforced Bioplastics and Their Applications (Susheel Kalia).
Chapter 17. Nanocomposites Based on Starch and Fibers of Natural Origin (Fernando Wypych).
Chapter 18. Biogenic Precursors for Polyphenol, Polyester and Polyurethane Resins (Harlin Ali).
Chapter 19. Long Biofibres & Engineered Pulps for High Performance Bioplastics & Biocomposites (Alan Fernyhough).