Handbook of Botulinum Toxin Treatment, 2nd Edition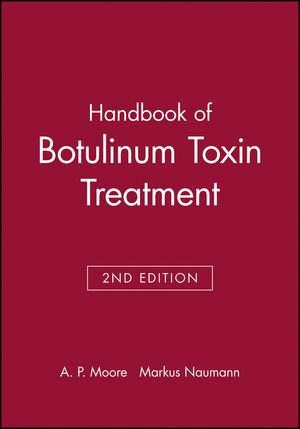 Handbook of Botulinum Toxin Treatment, 2nd Edition
ISBN: 978-0-632-05957-7
Jan 2003, Wiley-Blackwell
476 pages
Description
Botulinum toxin A is a remarkably versatile treatment with a steadily expanding list of indications, which include strabismus, hemifacial spasm, focal dystonias such as spasmodic torticollis, dysphonia and writer's cramp, as well as adult and childhood spasticity. Recent innovations include its use in some types of pain, in autonomic and gastrointestinal disorders, and in cosmetic medicine, such as hyperhidrosis, hypersalivation, rectal fissure, achalasia and facial wrinkles. Botulinum toxin is arguably the safest and most effective treatment in movement disorders since the introduction of levodopa, and is an increasingly important option in many other fields.


The long-awaited second edition of the Handbook of Botulinum Toxin Treatment brings the reader up to date with the many advances in background knowledge and in clinical practice in both the established and the newer indications, including the use of a second serotype botulinum toxin B.


The book is an introduction and practical guide for doctors and paramedical staff who use botulinum toxin or who may want to refer patients or care for patients being treated elsewhere. Initial chapters provide historical and general information. The rest of the book concentrates on the different conditions treated with botulinum toxin. Chapters follow a standard format with a pragmatic approach based on the wide experience of the authors.
PART ONE: General.
Chp 1. History and current applications of botulinum toxin *Moore & Naumann.
Chp 2. The molecular basis of the activity of botulinum toxin.
*Montecucco & Rosetto.
Chp 3. General and clinical aspects of treatment with botulinum toxin.
*Moore & Naumann.
Chp 4. EMG and Imaging.
*Poewe and Wissel.
PART TWO: Disorders of Movement.
Chp 5. Dystonia.
*Brin.
5.1 Cranio-facial dystonia.
*Brin.
5.2 Laryngeal and pharyngeal dystonia.
*Blitzer, Sulica & Verhayden.
5.3 Cervial and axial (spinal) dystonia.
*Benecke.
5.4 Limb and occupational dystonia (including non limb variants).
*Sheean.
Chp 6. Spasticity in adults: Introduction.
*Gracies & Simpson.
6.1 Upper limbs and neck.
*Gracies & Simpson.
6.2 Lower limbs.
*Hefter.
Chp. 7 Spasticity in children.
*Graham, Heinen & Berweck.
Chp 8. Other involuntary muscle activity - Tremor.
*Findlay & Senanayake.
Chp 9. Exotic movement disorder indications.
*Jankowic & M Thomas.
PART THREE: Autonomic Disorders.
Chp 10. Disorders of secretion.
*Naumann.
Chp 11. Pelvic floor and gastrointestinal uses.
*Jost.
PART FOUR: Other Indications.
Chp 12. Ophthalmic.
*Lee.
Chp 13. Pain.
*Nurmikko.
Chp 14. Cosmetic Use.
*Lowe & Sommer.
Chp 15. The future of neurotoxins.
*Moore & Naumann
"...a comprehensive and succinct overview..."
Hospital Update
"...an essential companion..."
JNNP
"...a valuable tool...recommended..."
Neuro-ophthalmology