Handbook of Brief Cognitive Behaviour Therapy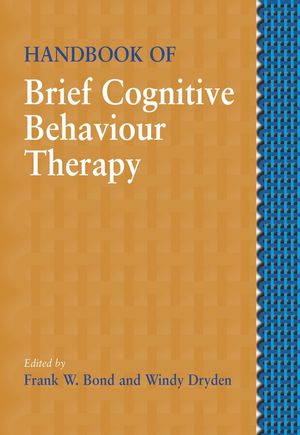 Handbook of Brief Cognitive Behaviour Therapy
ISBN: 978-0-470-02133-0 January 2005 330 Pages
Description
Brief Cognitive Behaviour Therapy can be applied to the treatment of a wide range of problems in many different settings. In this unique handbook, Frank Bond and Windy Dryden, have brought together a prominent cast of authors, to discuss issues concerning the definition, assessment and, in particular, the practice of brief Cognitive Behaviour Therapy (CBT).
Contents include:
* The difference between brief and regular CBT and evidence for its effectiveness.
* How to use brief CBT in your own area of practice.
* Applying brief CBT to emotional disorders, anxiety, workplace stress and more.
This handbook is accessible to a wide range of readers, including academics, practitioners, psychotherapists, counsellors, and students training in CBT.
About the Editors.
List of Contributors.
Preface.
Chapter 1: Brief Cognitive-Behavioral Therapy: Definition and Scientific Foundations (Holly Hazlett-Stevens & Michelle G. Craske).
Chapter 2: Assessment Issues in Brief Cognitive-Behavioral Therapy (Follin Armfield Key & Michelle G. Craske).
Chapter 3: Brief ACT Treatment of Depression (Robert D. Zettle & Steven C. Hayes).
Chapter 4: Panic Disorder with Agoraphobia (Nina Heinrichs, David A. Spiegel & Stefan G. Hofmann).
Chapter 5: Brief Cognitive Behavioral Intervention for Anger (Raymond W. Novaco & Kelly L. Jarvis).
Chapter 6: Cognitive Therapy for Generalised Anxiety Disorder (Adrian Wells).
Chapter 7: ACT at Work (Frank W. Bond & Steven C. Hayes).
Chapter 8: Cognitive Therapy for Social Phobia (Adrian Wells).
Chapter 9: Brief Cognitive-Behavioral Interventions for Substance Abuse (F. Michler Bishop).
Chapter 10: Brief Cognitive-Behavioral Therapy with Couples (Norman B. Epstein, Donald H. Baucom, Wendy Hunt & Jaslean J. La Taillade).
Chapter 11: Child and Adolescence Problems (Alan Carr).
Chapter 12: Preventing and Treating Evaluation Strain: A Brief CBT Approach (Paul E. Flaxman, Frank W. Bond & Edmund Keogh).
Chapter 13: Preventing Counsellor Burnout in Brief Cognitive Behavior Therapy (Albert Ellis).
Author Index.
Subject Index.