Handbook of Canadian Security Analysis, A Guide to Evaluating the Industry Sectors of the Market, from Bay Street's Top Analysts, Volume 2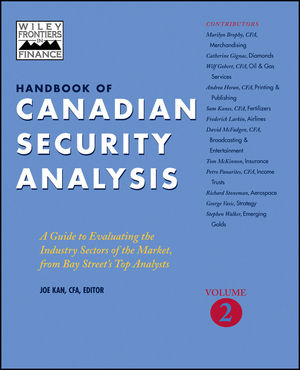 Handbook of Canadian Security Analysis, A Guide to Evaluating the Industry Sectors of the Market, from Bay Street's Top Analysts, Volume 2
ISBN: 978-0-471-64390-6
Apr 2000
624 pages
Description
One of the keys to investment success is the ability to identify the most promising companies in the leading industries. But that is not as simple as it sounds. Although most investors, portfolio managers, and finance students understand the basics of investment analysis, the dynamics of individual industries are more difficult to grasp since they can vary greatly from one industry to another.

The Handbook of Canadian Security Analysis is the definitive guide to analyzing the industry sectors in the Toronto Stock Exchange 300 Composite Index. It gives you the analytical tools you need to measure profitability and stock potential in every major industry grouping of the Canadian market. This two-volume reference brings together — for the first time ever — advice from twenty-seven of Canada's top financial analysts. Each chapter gives practical, expert advice on what makes a particular industry tick:
industry overview
trends and developments
key performance measures
markets and competition
the regulatory environment
cyclical and seasonal influences, and much more.
The Handbook of Canadian Security Analysis gives you a rare glimpse into the world of financial analysts: what they look for, and how they make their decisions. This distinguished group of financial experts share their vast experience and specialized knowledge on how to analyze specific industries to help you invest for success:
the factors that underlie analysts' stock selections
the analytical techniques, yardsticks, and tools of the trade used to value securities
the quantitative and qualitative factors to take into account when analyzing stocks in each particular industry
when to buy and sell individual securities
how and where to get more information on the industry. 
Preface
Acknowledgements
List of Participants

HIGH ECONOMIC SENSITIVITY

Chapter 1: Oil Services, Miles Lich and Wilfred Gobert, CFA

Chapter 2: Airlines, Frederick K. Larkin

Chapter 3: Diamonds, Catherine Gignac

Chapter 4: Emerging Golds, Stephen Walker

Chapter 5: Printing and Publishing, Andrea Horan, CFA

Chapter 6: Broadcasting and Entertainment, David McFadgen, CFA

Chapter 7: Aerospace, Richard Stoneman

Chapter 8: The Canadian Fertilizer Industry, Samuel Kanes, CFA

LOW ECONOMIC SENSITIVITY

Chapter 9: Insurance, Tom MacKinnon

Chapter 10: Merchandising, Marilyn Brophy, CFA

MARKET STRATEGY

Chapter 11: Strategy, George Vasic

Chapter 12: Income Trusts, Petro Panarites, CFA