Handbook of Checked Baggage Screening: Advanced Airport Security Operation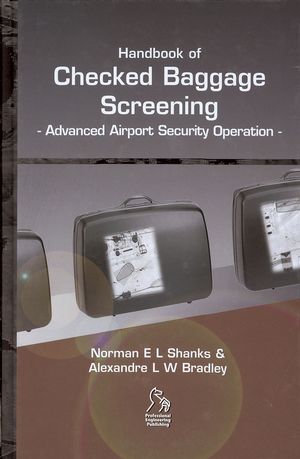 Handbook of Checked Baggage Screening: Advanced Airport Security Operation
ISBN: 978-1-860-58428-2 August 2005 266 Pages
Description
Handbook of Checked Baggage Screening – Advanced Airport Security Operation is a practical guide for project managers and designers embarking on hold-baggage screening developments within the airport environment for the first time. The book clearly explains away any uncertainty about the processes and procedures to be used by the various parties involved within the industry and sets out 'best practice' with respect to checked baggage screening design. Valuable lessons can be learned from actual case studies contributed by leading equipment manufacturers on recent 100% hold baggage screening projects.

In addition to the all-important security screening of baggage and passengers the book also looks at the following areas associated with airport security, through the use of a detailed structured security check-list evaluation questionnaire. The questionnaire allows airports to assess the state of readiness of their airports and then, using the other chapters, gain an insight regarding which technology will best solve any security gaps.

The authors offer a unique perspective through their background and experience. Many of the checked baggage screening procedures and equipment discussed in the book have already been implemented in the UK, with the authors responsible for leading this effort. The combined experience they can offer to the industry world wide is invaluable.
Foreword.
Acknowledgements.
Glossary and Definition of Terms.
Chapter 1. Where to Start.
Chapter 2. Hold Baggage Screening.
Chapter 3. Project Processes.
Chapter 4. Dealing with Governments.
Chapter 5. The Client and Users.
Chapter 6. Interested Parties.
Chapter 7. General Airport Processes.
Chapter 8. General Airport Development Models.
Chapter 9. Retail Development.
Chapter 10. Planning/Environmental/Terminology.
Chapter 11. Cost Management.
Chapter 12. The HBS Project Programme.
Chapter 13. Airport Systems Maintenance.
Chapter 14. Airport Security.
Chapter 15. Terminal Buildings.
Chapter 16. Apron Areas.
Chapter 17. Support Infrastructure.
Chapter 18. Project Handover.
Manufacturer Case Studies.
Index.