Handbook of Child and Adolescent Drug and Substance Abuse: Pharmacological, Developmental, and Clinical Considerations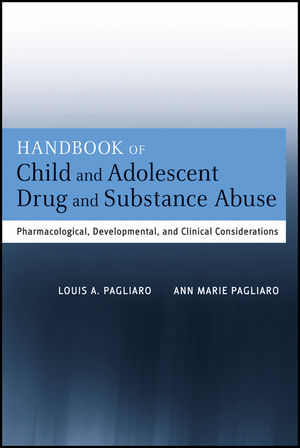 Handbook of Child and Adolescent Drug and Substance Abuse: Pharmacological, Developmental, and Clinical Considerations
ISBN: 978-0-470-63906-1
Dec 2011
528 pages
Description
Selected by Choice as a 2013 Outstanding Academic Title
Section I Introduction.
Chapter 1 The Nature and Extent of Substance Abuse.
Chapter 2 Explaining Substance Use: A Review of Prevalent Theories.
Section II Developmental Considerations.
Chapter 3 Prenatal Exposure to Substances of Abuse.
Chapter 4 Exposure and Use of Substances of Abuse During Infancy and Childhood.
Chapter 5   Adolescent Substance Use.
Section III Social Considerations.
Chapter 6 Effects of Substance Use on Learning and Memory.
Chapter 7 Substance-Related Accidents and Violence: Children and Adolescents as Victims.
Chapter 8 Substance-Related Violence: Children and Adolescents as Perpetrators.
Chapter 9 Substance Use, and HIV Infection and AIDS.
Section lV Clinical Considerations.
Chapter 10 Identifying and Diagnosing Substance Use Disorders: Tools and Analysis.
Chapter 11 Dual Diagnoses: Substance Use and Co-Occurring Diagnosis.
Chapter 12 Preventing and Treating Substance Use Disorders: Promoting Successful Outcomes.
Named CHOICE Outstanding Title for 2012