Handbook of Clinical Pediatric Endocrinology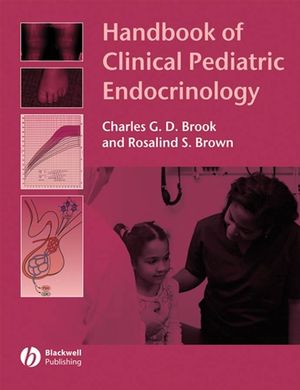 Handbook of Clinical Pediatric Endocrinology
ISBN: 978-0-470-69554-8 April 2008 Wiley-Blackwell 272 Pages
Description
Commended in the Endocrinology category of the 2008 BMA Medical Book Competition
The Handbook of Clinical Pediatric Endocrinology provides an up-to-date clinical guide presenting best (and, where possible, evidence-based) practice in the diagnosis, treatment and management of pediatric endocrine disorders.

It is a companion title to Brook's Clinical Pediatric Endocrinology, which is well established as the leading international work of reference in the field of pediatric endocrinology, covering endocrine disorders, their diagnosis and treatment.
Preface.
1 The Application of Science to Clinical Practice.
2 The Endocrine Problems of Infancy.
3 Problems of Growth in Childhood.
4 Problems of Puberty and Adolescence.
5 The Thyroid Gland.
6 The Adrenal Gland.
7 Disorders of Calcium and Bone Metabolism.
8 Water Balance.
9 Polyglandular Syndromes.
10 Hypoglycemia.
11 Obesity and Type 2 Diabetes Mellitus.
12 Type 1 Diabetes Mellitus.
13 Tests and Normal Values in Pediatric Endocrinology.
Appendix 1: Syndrome-Specifi c Growth Charts.
Appendix 2: Normal Values.
Index
"A practical text written by known experts covering in 12 chapters the most frequent endocrine disorders in childhood." (
Pediatric Endocrinology
, May 2009)
"A well-produced book which is very useful to its target audience … Excellent drawings. Information is comprehensive and well written." (BMA Medical Book Competition - Programme and Award Winners, September 2008)
● The clinical handbook for the diagnosis, treatment and management of pediatric endocrine disorders
● Concentrates on the practical aspects
● Provides a quick and easy-to-read reference
● Includes chapter summaries and text boxes to support learning
● Contains diagnostic and therapeutic decision trees