Handbook of Couple and Family Forensics: A Sourcebook for Mental Health and Legal Professionals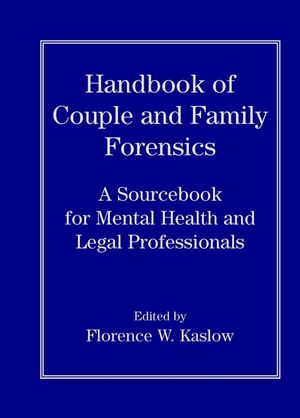 Handbook of Couple and Family Forensics: A Sourcebook for Mental Health and Legal Professionals
ISBN: 978-0-471-19129-2
Oct 1999
554 pages
Product not available for purchase
Description
Many families turn to mental health professionals for advice and counseling on how to cope with the stresses of legal crises. The first and only book of its kind, this handbook provides mental health professionals with comprehensive coverage of the interface between the legal and family systems. Organized by developmental stages, the book covers a wide range of topics including pre-nuptial agreements, divorce, child custody, adoption, spousal abuse; gay, bisexual, and lesbian issues; family business succession, and euthanasia.
WHEN FAMILIES IN TREATMENT INTERFACE WITH LEGAL AND JUDICIAL SYSTEMS: THE EARLY YEARSFAMILY FORMATION AND YOUNG CHILDREN.

Prenuptial and Postnuptial Agreements: Sunny or Stormy Bellwethers to Marriage or Remarriage (F. Kaslow).

Adoption: Parents Who Choose Children and Their Options (L. Schwartz).

Surrogacy: The Third Leg of the Reproductive Triangle (L. Schwartz).

Foster Parenting (J. Silovsky & D. Willis).

Physical and Sexual Abuse (T. Trepper & M. Dankoski).

WHEN FAMILIES IN TREATMENT INTERFACE WITH LEGAL AND JUDICIAL SYSTEMS: THE MIDDLE YEARSRAISING ADOLESCENTS AND YOUNG ADULTS.

Privacy Rights of Minors (M. Levick).

Sexual Harassment and Stalking (W. Koedam).

Psychological and Legal Issues Confronting Lesbian, Bisexual, and Gay Couples and Families (K. Kuehlwein & D. Gottschalk).

Delinquency and Criminality (P. Lipsitt & L. Lipsitt).

Spouse Abuse (C. Guyer).

Divorce and Its Sequelae: A Psycholegal Perspective (F. Kaslow).

Child Custody (M. Gindes).

Parental Abduction (C. Hatcher, et al.).

Family Decision Making, Civil Commitment, and Treatment (P. Ash).

WHEN FAMILIES IN TREATMENT INTERFACE WITH LEGAL AND JUDICIAL SYSTEMS: THE POSTLAUNCHING YEARS.

Succession Planning in the Family-Owned Firm: Psycholegal Concerns (S. Kirschner & D. Kirschner).

Children Who Sue Parents: A Legal Route for Family Destruction? (F. Kaslow).

The Impact of Recovered Memories (K. Pope & O. Caudill).

Elder Abuse: Families, Systems, Causes, and Interventions (T. Peake & J. Oelschlager).

Wills and Trusts: Family Planning (S. Klein).



Euthanasia Decisions (D. Becvar).

GENRAL FORENSIC ISSUES.

Professional Ethics, Regulatory Licensing, and Malpractice Complaints (R. Woody).

Serving as an Expert Witness: Evaluations, Subpoenas, and Testimony (S. Brodsky & S. Anderer).

Consulting and Collaborating with Attorneys (M. Gottlieb).

Preparation for Forensic Family Therapy Practice (F. Kaslow).

Indexes.
"The trouble is that the range of legal issues that influence family life is broad and growing. To stay abreast of all that needs knowing, one would need to consult a host of attorneys just to find another host of attorneys who knewwhat they were talking about. A comprehensive forensics resource is needed, and this book fills the bill nicely. It belongs on the bookshelf of every MFT who is not also a practicing family law attorney with 50 years of experience!"(Gregory Brock, Ph.D. University of Kentucky -In the 10/01 Journal of Marital and Family Therapy)