Handbook of Echo-Doppler Interpretation, 2nd Edition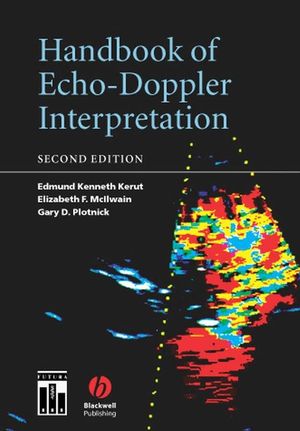 Handbook of Echo-Doppler Interpretation, 2nd Edition
ISBN: 978-1-405-14612-8 April 2008 Wiley-Blackwell 416 Pages
Description
This handbook is intended to help the physician and sonographer to learn echo concepts and techniques in a "user friendly" way, to help them perform studies and understand concepts in order to collect as much clinically useful information as possible on an individual patient. This book is written as a very practical and easy to read manual. Each chapter highlights the various aspects of echocardiography. Practical tips are displayed throughout the book. This text is well illustrated with 165 photographs and graphical illustrations. It will be useful to the echocardiographer and sonographer for practical guidance into performing a thorough goal-orientated study for a particular problem and for the physician/cardiologist in developing the interpretation.


Basic Principles of Ultrasound Physics

Principles of Instrumentation and Echo-Doppler Modalities

Basics of Fluid Mechanics and Hemodynamic Equations

The Echo Examination and Echo Anatomy

Ventricular Measurements and Systolic Function

Diastolic Function

Aortic Valve

Mitral Valve

The Right Heart, Pulmonary Artery and Ventricular System

Prosthetic Heart Valves

Cardiomyopathy and Heart Failure

Pericardium and Effusions

Ischemic Heart Disease and Myocardial Infarction

Critical Care

Operating Room

Congenital Heart Disease

Source of Embolism

Endocarditus

Aorta and Aorta Dissection

Masses and Tumors

Selected Topics
"Each chapter is well laid out and it is easy to see where the text is leading. The authors have made good use of lists which are much clearer than wading through lines of unnecessary prose. The text is liberally interspersed with well annotated diagrams and illustrations. A picture can say a thousand words and this has been used to good advantage. Real-time ultrasound images and Doppler traces are plentiful, are of good quality and have been reproduced well. I was pleased to see that all the real-time ultrasound images are reproduced as negatives (white on black) although the illustration on the cover is a positive image!
The authors have been successful in making this a practical handbook of echocardiography and interpretation. It is easy to read and very well illustrated. There is no attempt to relate echocardiography to other cardiac imaging modalities and this is no substitute for a cardiology textbook. Those new to echocardiography should find it helpful as they build up experience. The more experienced echocardiographer may find it useful to refer to specific chapters on unfamiliar subjects or use the references for further study. By today's standards this is good value for money and would be useful on the shelves of most departments. I suspect those new to echocardiography will consider purchasing their own copy."

Ultrasound in Medicine and Biology, review of first edition


Practical guidance on learning echo concepts and techniques


Easy-to-read style with useful tips and 165 photos and illustrations


Each chapter highlights the different aspects of echocardiography