Handbook of Elemental Speciation II: Species in the Environment, Food, Medicine and Occupational Health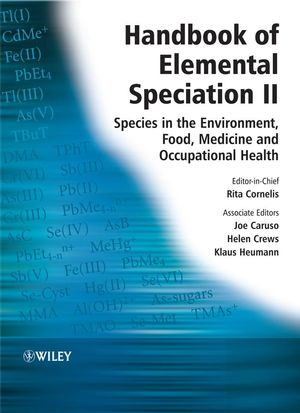 Handbook of Elemental Speciation II: Species in the Environment, Food, Medicine and Occupational Health
ISBN: 978-0-470-85599-7 September 2005 788 Pages
Description
Written by an internationally recognized group of editors and contributors,
Handbook of Elemental Speciation, Volume 2
provides a comprehensive, cross-disciplinary presentation of the analytical techniques involved in speciation.
Comprehensive coverage of key elements and compounds in situ
Addresses the analysis and impact of these elements and compounds, e.g. arsenic, lead, copper, iron, halogens, etc.,  in food, the environment, clinical and occupational health
Detailed methodology and data are reported, as well as regulatory limits
Includes general introduction on the impact in these key areas
Table of contents
List of contributors.
Preface.
Acknowledgements.
1. Introduction.
2. Elements by Element Review .
2.1. Introduction.
2.2. Speciation of Aluminium.
2.3 Speciation of Antimony.
2.4 Speciation of Arsenic.
2.5. Speciation of Cadmium.
2.6. Speciation of Chromium.
2.7. Speciation of Cobalt.
2.8. Speciation of Copper.
2.9. Speciation of Iron.
2.10. Speciation of Lead.
2.11. Speciation of Manganese.
2.12. Speciation of Mercury .
2.13. Speciation of Molybdenum.
2.14. Speciation of Nickel.
2.15. Speciation of Platinum, Gold and Rhodium.
2.16. Speciation of Selenium .
2.17. Speciation of Silicon .
2.18. Speciation of Sulfur.
2.19. Speciation of Thallium.
2.20. Speciation of Tin.
2.21. Speciation of Vanadium.
2.22. Speciation of Zinc.
2.23. Speciation of Actinides.
2.24. Speciation of Halogens.
2.25. Volatile Metal Compounds of Biogenic Origin.
2.26. Metal Complexes of Humic Substances.
2.27. Metal Complexes of Proteins.
3. Modeling of Elemental Species.
3.1. Modeling of Trace Elements Partitioning in the Environment.
3.2 Modeling in Nutrition.
3.3. Modeling of Trace Elements in Health and Disease.
4. Elemental Speciation and Present Day Legislation.
Index. 
Reviews
"...should definitely be available in the reference library of every university or organization where speciation studies are carried out."  (Applied Organometallic Chemistry, November 2007)