Handbook of Empirical Social Work Practice, Volume 1: Mental Disorders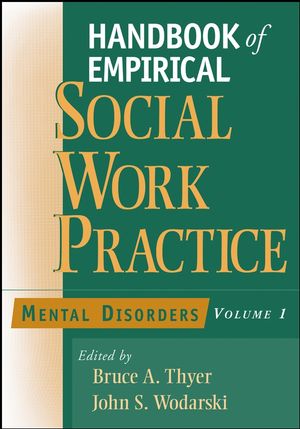 Handbook of Empirical Social Work Practice, Volume 1: Mental Disorders
ISBN: 978-0-471-65433-9
Jan 1998
528 pages
Description
Covers clinically effective treatments for over twenty of the major mental, behavioral, and emotional diagnoses in the DSM-IV

The last two decades in social work have seen tremendous strides in field research, from the development of improved research designs to more accurate methods of problem measurement and outcome analysis. Drawing upon these significant advances, the two-volume Handbook of Empirical Social Work Practice brings together empirically validated interventions for many of the psychosocial problems most frequently encountered by social workers in their daily practice.

Unlike other books in the field that employ a theory-based approach to treatment, this handbook focuses on the best-supported methods of helping clients with particular problems irrespective of theoretical biases, offering clinicians a valuable compendium of practice guidelines for treatment.

Edited and authored by recognized experts in the field, the Handbook of Empirical Social Work Practice is clearly written and organized for easy reference. Volume One covers clinically effective treatments for over twenty of the major mental, behavioral, and emotional diagnoses in the DSM-IV(TM), including:
* Disorders typically diagnosed in infancy, childhood, or adolescence
* Substance-related disorders
* Schizophrenia and other psychotic disorders
* Mood and anxiety disorders
* Sexual and eating disorders
* Personality disorders


With information that is at once accessible and up to date, the Handbook of Empirical Social Work Practice is a vital source of guidance for today's clinical social workers and other practicing mental health professionals, as well as students.

"One of the best tools to promote the values of the [social work] profession is that of empirical social work practice. 'Telling the truth' is one of these values, and discovering the truth is something that empirical research is very good at. This book presents credible reviews of contemporary empirical literature pertaining to selected behavioral, affective, and intellectual disorders, and their psychosocial assessment and treatment. That such a book is now possible is a striking affirmation of the merits of the approach to social work called empirical clinical practice."
-from the Handbook of Empirical Social Work Practice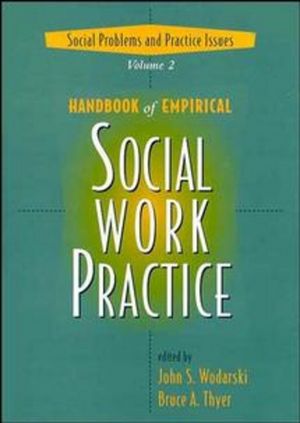 Purchased Together:$180.00
Chapter 1. First Principles of Empirical Social Work Practice (Bruce A. Thyer and John S. Wodarski).
PART I. DISORDERS USUALLY FIRST DIAGNOSED IN INFANCY, CHILDHOOD, OR ADOLESCENCE.
Chapter 2. Mental Retardation (John Gerdtz and Joel Bregman).
Chapter 3. Attention Deficit Hyperactivity Disorder (Martha J. Markward).
Chapter 4. Conduct Disorder (Lisa A. Rapp and John S. Wodarski).
Chapter 5. Oppositional Defiant Disorder (Peter Lehmann and Richard F. Dangel).
Chapter 6. Feeding Disorders of Infancy and Early Childhood (MaryLouise E. Kerwin and Nancy Hale Sills).
Chapter 7. Enuresis and Encopresis (John F. Butler and Rick L. Campise).
Chapter Seperation Anxiety Disorder (Karen P. Sowers-Hoag and Toni M. DiDona).
PART II. SUBSTANCE-RELATED DISORDERS.
Chapter 9. Alcohol Abuse (Nancy J. Smyth).
Chapter 10. Cocaine Abuse (Patrick S. Bordnick, Joy Schmitz and Judith R. Bordnick)
Chapter 11. Opiate Abuse (Cheryl Davenport Dozier and J. Aaron Johnson).
PART III. SCHIZOPHRENIA AND OTHER PSYCHOTIC DISORDERS.
Chapter 12. Schizophrenia (Rsemary L. Farmer, Joseph Walsh and Kia J. Bentley).
PART IV. MOOD DISORDERS.
Chapter 13. Major Depressive Disorder and Dysthymic Disorder (Catherine N. Dulmus and John S. Wodarski).
Chapter 14. Bipolar Disorder (Bruce Brotter, John F. Clarkin and Daniel Carpenter).
PART V. ANXIETY DISORDERS.
Chapter 15. Panic Disorder with Agoraphobia (Joseph Himle and Daniel J. Fischer).
Chapter 16. Specific and Social Phobias (Joseph J. Plaud and Keith G. Vavrovsky).
Chapter 17. Obsessive-Compulsive Disorder (Iris Cohen and Gail Steketee).
Chapter 18. Post-Traumatic Stress Disorder (M. Elizabeth Vonk and Bonnie L. Yegidis).
Chapter 19. Generalized Anxiety Disorder (Robert W. McLellarn and Julie M. Rosenzweig).
PART VI. SEXUAL DISORDERS.
Chapter 20. Sexual Desire and Arousal Disorders (Sophia F. Dziegielewski and Cheryl Resnick).
Chapter 21. Orgasmic Disorders (Sophia F. Dziegielewski and Cheryl Resnick).
PART VII. EATING DISORDERS.
Chapter 22. Bulimia Nervosa (Laura L. Myers).
PART VIII. PERSONALITY DISORDERS.
Chapter 23. Borderline Personality Disorder (André Ivanoff, Marsha M. Linehan and Karrie L. Recknor).
Index.