Handbook of Environmental Psychology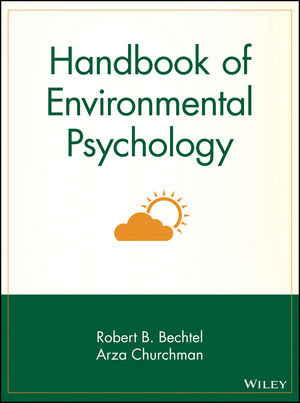 Handbook of Environmental Psychology
ISBN: 978-0-471-40594-8 March 2002 736 Pages
Description
An international team of leading scholars explores the latesttheories, research, and applications critical to environmentalpsychology

Featuring the latest research and concepts in the field straightfrom the world's leading scholars and practitioners, Handbook ofEnvironmental Psychology provides a balanced and comprehensiveoverview of this rapidly growing field. Bringing togethercontributions from an international team of top researchersrepresenting a myriad of disciplines, this groundbreaking resourceprovides you with a pluralistic approach to the field as aninterdisciplinary effort with links to other disciplines.

Addressing a variety of issues and practice settings, Handbook ofEnvironmental Psychology is divided into five organized andaccessible parts to provide a thorough overview of the theories,research, and applications at the forefront of environmentalpsychology today. Part I deals with sharpening theories; Part IIlinks the subject to other disciplines; Part III focuses onmethods; Part IV highlights applications; and Part V examines thefuture of the field.

Defining the ongoing revolution in thinking about how theenvironment and psychology interact, Handbook of EnvironmentalPsychology is must reading for anyone coping directly with theattitudes, beliefs, and behaviors that are destroying ourenvironment and putting our lives in jeopardy.

Topics include:
* Healthy design
* Restorative environments
* Links to urban planning
* Contaminated environments
* Women's issues
* Environments for aging
* Climate, weather, and crime
* The history and future of disaster research
* Children's environments
* Personal space in a digital age
* Community planning
Table of contents
SECTION I: SHARPENING THEORIES.

The Increasing Contexts in the Study of Environment BehaviorRelations (S. Wapner & J. Demick).

The Ethical Imperative (L. Rivlin).

Environmental Psychology: From Spatial-Physical Environment toSustainable Development (M. Bonnes & M. Bonaiuto).

Environmental Management: A Perspective from EnvironmentalPsychology (E. Pol).

The New Environmental Psychology: The Human InterdependenceParadigm (T. Garling, et al.).

The Phenomenological Approach to People-Environment Studies (C.Graumann).

Ecological Psychology: Historical Contexts, Current Conception,Prospective Directions (A. Wicker).

SECTION II: SHARPENING LINKS TO OTHER DISCIPLINES.

Exploring Pathology: Relationships between Clinical andEnvironmental Psychology (K. Anthony & N. Watkins).

Environmental Anthropology (E. Liebow).

Environmental Sociology (R. Dunlap).

Environmental Psychophysiology (R. Parsons & L.Tassinary).

Environmental Psychology and Urban Planning: Where Can the TwainMeet? (A. Churchman).

SECTION III: SHARPENING METHODS.

Transactionally Oriented Research: Examples and Strategies (C.Werner, et al.).

Meta-Analysis (A. Stamps).

The Experience Sampling Method: Measuring the Context and Contentof Lives (J. Hektner & M. Csikszentmihalyi).

The Open Door of GIS (R. Golledge).

Structural Equation Modeling (V. Corral-Verdugo).

Spatial Structure of Environment and Behavior (J. Peponis & J.Wineman).

Behavioral-Based Architectural Programming (R. Hershberger).

Postoccupancy Evaluation: Issues and Implementation (C.Zimring).

SECTION IV: SHARPENING APPLICATION.

Making a Difference: Some Ways Environmental Psychology HasImproved the World (R. Gifford).

Bridging the Gap: How Scientists Can Make a Difference (F.Kuo).

Women and Environment (K. Franck).

Children's Environment (K. Korpela).

Design and Dementia (K. Day & M. Calkins).

Healthy Residential Environments (R. Lawrence).

Crime Prevention through Environmental Design (CPTED): Yes, No,Maybe, Unknowable, and All of the Above (R. Taylor).

Wayfinding: A Broad View (J. Carpman & M. Grant).

Work Environments (J. McCoy).

Environmental Psychology in Museums, Zoos, and Other ExhibitionCenters (S. Bitgood).

Climate, Weather, and Crime (J. Rotton & E. Cohn).

Noise Pollution: A Hazard to Physical and Mental Well-Being (A.Bronzaft).

The History and Future of Disaster Research (L. Peek & D.Mileti).

The Challenge of Increasing Proenvironment Behavior (E.Geller).

Emerging Theoretical and Methodological Perspectives onConservation Behavior (J. Vining & A. Ebreo).

Contamination: The Invisible Built Environment (M.Edelstein).

Environmental Conflict and Its Resolution (T. d'Estree, etal.).

A Methodology of Participatory Planning (L. Horelli).

Sustained Participation: A Community Based Approach to AddressingEnvironmental Problems (E. Wiesenfeld & E. Sanchez).

SECTION V: THE FUTURE.

Personal Space in a Digital Age (R. Sommer).

Toward an Environmental Psychology of the Internet (D. Stokols& M. Montero).

On to Mars! (R. Bechtel).

Author Index.

Subject Index.
Reviews
"I believe that the book serves an important role in bringing this relatively marginalized area of psychology to broader audiences" (Contemporary Psychology, Vol. 4, No.3; June 2004)