Handbook of Evolution: The Evolution of Human Societies and Cultures, Volume 1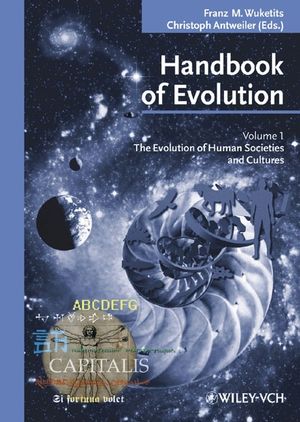 Handbook of Evolution: The Evolution of Human Societies and Cultures, Volume 1
ISBN: 978-3-527-61970-2
Oct 2008, Wiley-Blackwell
352 pages
Description
This two-volume handbook is unique in spanning the entire field of evolution, from the origins of life up to the formation of social structures and science and technology. The author team of world-renowned experts considers the subject from a variety of disciplines, with continuous cross-referencing so as to retain a logical internal structure. The uniformly structured contributions discuss not merely the general knowledge behind the evolution of life, but also the corresponding development of language, society, economies, morality and politics. The result is an overview of the history and methods used in the study of evolution, including controversial theories and discussions. A must for researchers in the natural sciences, sociology and philosophy, as well as for those interested in an interdisciplinary view of the status of evolution today.
Preface.
List of Contributors.
1. The Human Adaptation for Culture (Michael Tomasello).
2. Cognitive Evolution (Olaf Diettrich).
3. Evolution, Language, and the Construction of Culture (Harold Haarmann).
4. Social Evolution (Peter Meyer).
5. Evolution of Morality (Camilo J. Cela-Conde & Francisco J. Ayala).
6. The Evolution of Politics (Peter A. Corning).
7. Evolution of Economics (John M. Gowdy).
8. The Evolution of Scientific Method (Erhard Oeser).
Index.
"Elf Autoren aus u.a. Belgien, Finnland, Spanien und den USA haben an diesem Buch mitgewirkt und sich ausführlich mit der Evolution der Sprache, Moral, Politk, Wirtschaft und der wissenschaftlichen Methoden beschäftigt. Das Resultat ist beachtenswert und für Naturwissenschaftler, Soziologen und Philosophen gleichermaßen empfehlenswert."
Labourjournal

"Erfrischend ist der biologisch inspirierte Blick auf die Evolution von Moral, Politik, Ökonomie und wissenschaftlicher Methodik. ... Insofern kommt dem Handbuch auch das Verdienst zu, eine Lücke zu schließen, ohne dass man sich gleich in den Dschungel der Spezialliteratur begeben muss."
Das Science Fiction Jahr 2005 - 100 x buchstäblich gut, Wissenschaft und Philosophien - die herausragenden Bücher des Jahres 2004, Heyne Verlag

"Mit einer Reihe ausgewiesener Experten werden ... acht Themen bearbeitet ... Die Zielgruppe sind Forscher aus den Naturwissenschaften, der Soziologie und Philosophie, die an einer interdisziplinären Sicht über den Status der Evolution interessiert sind."
HOMO - Journal of Comparative Human Biology

"... ein umfassend angelegtes, international bearbeitetes Werk erscheint, das dieses die ganze Welt durchdringende Thema interdisziplinär angeht. ... Jedes Kapitel ist übersichtlich gegliedert und enthält ein ausführliches Literaturverzeichnis. Ein Gesamtindex erleichtert die Orientierung beim Auffinden und Überprüfen gedanklicher Querverbindungen. ... Der nun vorliegende Band 1 ist sorgfältig und vorbildlich gestaltet..." Entomologia Generalis