Handbook of Fluoropolymer Science and Technology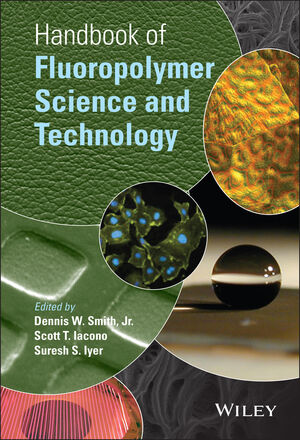 Handbook of Fluoropolymer Science and Technology
ISBN: 978-1-118-85008-4 May 2014 672 Pages
Description
Fluoropolymers continue to enable new materials and technologies as a result of their remarkable properties.  This book reviews fluoropolymer platforms of established commercial interest, as well as recently discovered methods for the preparation and processing of new fluorinated materials. It covers the research and development of fluoropolymer synthesis, characterization, and processing. Emphasis is placed on emerging technologies in optics, space exploration, fuel cells, microelectronics, gas separation membranes, biomedical instrumentation, and much more.
In addition, the book covers the current environmental concerns associated with fluoropolymers, as well as relevant regulations and potential growth opportunities. Concepts, studies, and new discoveries are taken from leading international laboratories, including academia, government, and industrial institutions.
Foreword ix
Patrick E. Cassidy
In Memoriam xi
Preface xiii
Contributors xv
About the Editors xxi
1 Fluorinated Polyphosphazenes 1
Harry R. Allcock
2 Mn2 (CO)10-Visible Light Photomediated, Controlled Radical Polymerization of Main Chain Fluorinated Monomers and Synthesis of Block Copolymers Thereof 21
Alexandru D. Asandei, Olumide I. Adebolu, and Christopher P. Simpson
3 Interfacial Response of Semifluorinated Multi-block Copolymers 43
Anupriya Agrawal, Dipak Aryal, Dvora Perahia, and Gary S. Grest
4 Fluoropolymer Nanocomposites 57
Hideo Sawada
5 Thermal Degradation and Pyrolysis of Polytetrafluoroethylene 81
Gerard Puts, Philip Crouse, and Bruno Ameduri
6 Molecular Simulation of Fluoropolymers 105
Armand Soldera, Francois Porzio, and Nasim Anousheh
7 Vapor Deposition of Fluoropolymer Surfaces 131
Jose Yague and Karen K. Gleason
8 Functionalized and Functionalizable Fluoropolymer Membranes 149
Tao Cai, Koon-Gee Neoh, and En-Tang Kang
9 Poly[Methyl(3,3,3-Trifluoropropyl)Siloxane] 183
Michael J. Owen
10 Functional Fluorous Copolyoxetane Polymer Surface Modifiers 201
Kenneth J. Wynne, Pinar Kurt, Umit Makal, Tomoko Fujiwara, Kennard Brunson, Asima Chakravorty, Lynn Wood, and Dennis E. Ohman
11 Self-Organizing Semifluorinated Methacrylate Copolymers 235
Doris Pospiech and Dieter Jehnichen
12 Synthesis of Fluoropolymers Using Borane-Mediated Control Radical Polymerization for Energy Storage Applications 291
T.C. Mike Chung
13 Fluoropolymers in Supercritical Carbon Dioxide: Phase Behavior, Self-Assembly, and Stabilization of Water/CO2 Emulsions 315
Etienne Girard, Jean-Daniel Marty, and Mathias Destarac
14 Semifluorinated Polymers from Trifluorovinyl Aromatic Ether Monomers 343
Jianyong Jin, Scott T. Iacono, and Dennis W. Smith Jr.
15 Combustion Characterization of Energetic Fluoropolymer Composites 363
Oliver Mulamba and Michelle Pantoya
16 Amorphous Perfluoropolymers 377
Yoshiyuki Okamoto, Frantisek Mikes, Kotaro Koike, and Yasuhiro Koike
17 Fluoropolymers for Sustainable Energy 393
Vincenzo Arcella, Luca Merlo, Riccardo Pieri, Paolo Toniolo, Francesco Triulzi, and Marco Apostolo
18 Evolution of Academic Barricades for the Use of Tetrafluoroethylene (TFE) in the Preparation of Fluoropolymers 413
Daniel A. Hercules, Darryl D. DesMarteau, Richard E. Fernandez, James L. Clark Jr., and Joseph S. Thrasher
19 Fluoropolymer Surfaces/Interfaces 433
Yuji Higaki, Ryohei Ishige, and Atsushi Takahara
20 Fluoropolymer Dielectrics 451
Mustapha Raihane and Bruno Ameduri
21 Fluoropolymers—Environmental Aspects 495
Klaus Hintzer and Werner Schwertfeger
22 Fluorinated Ionomers and Ionomer Membranes Containing the bis[(perfluoroalkyl) sulfonyl]imide Protogenic Group 521
Iqbal Sharif, Stephen Creager, and Darryl D. DesMarteau
23 Fluorinated Silsesquioxanes 545
Sean Ramirez and Joseph Mabry
24 Multidimensional NMR of Fluoropolymers 565
Xiaohong Li, Jessi Baughman, Chun Gao, Linlin Li, Peter L. Rinaldi, Eric B. Twum, Elizabeth F. McCord, and Faith J. Wyzgoski
25 Melt Processible Perfluoroplastics for Demanding Applications 599
Paul Brothers, Gregory Chapman, Kimberly Farnsworth, and Richard Morgan
Index 623