Handbook of Functionalized Organometallics: Applications in Synthesis, 2 Volume Set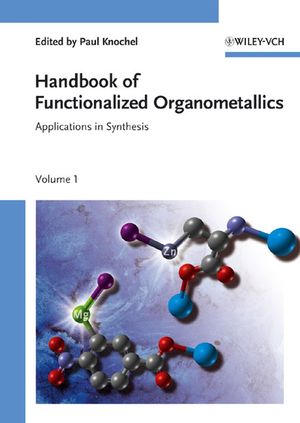 Handbook of Functionalized Organometallics: Applications in Synthesis, 2 Volume Set
ISBN: 978-3-527-61946-7
Jan 2008
690 pages
Description
Edited by one of the leading experts in the field, this handbook is the first to cover the field in its entirety, not merely focusing on one single metal but on the whole range of different compounds.
Paul Knochel provides everything there is to know about this hot topic. By imparting his knowledge, he shows readers how to significantly improve their synthetic strategies.
A must for chemists working with and on organometallics, organic chemists, catalytic chemists, and those in industry.
Introduction
Polyfunctional Li-Organometallics for Organic Synthesis
Functionalized Organoborane Derivatives in Organic Synthesis
Polyfunctional Magnesium Organometallics for Organic Synthesis
Polyfunctional Si-Organometallics for Organic Synthesis
Polyfunctional Sn-Organometallics for Organic Synthesis
Polyfunctional Zinc Organometallics for Organic Synthesis
Polyfunctional 1,1-Organodimetallic for Organic Synthesis
Polyfunctional Organocopper Reagents for Organic Synthesis
Functional Organonickel Reagents
Polyfunctional Metal Carbenes for Organic Synthesis
Functionalized Organozirconium and Titanium in Organic Synthesis
Mn-Organometallics for the Chemoselective Synthesis of Polyfunctional Compounds
Polyfunctional Electrophilic Multihapto-Organometallics for Organic Synthesis
Polyfunctional Zinc, Cobalt and Iron-Organometallics Prepared by Electrosynthesis