Handbook of Government Budgeting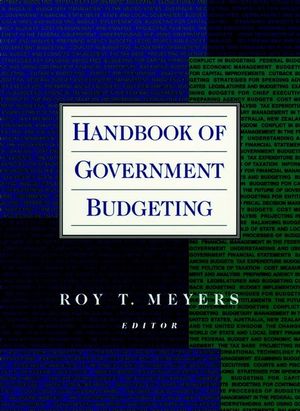 Handbook of Government Budgeting
ISBN: 978-0-787-94292-2 November 1998 Jossey-Bass 766 Pages
Description
In this comprehensive reference, Roy T. Meyers provides aninvaluable tool for anyone who wants to learn how the governmentbudgeting process works, where it doesn't work, and how it can beimproved. Filled with insights and wisdom from thirty-sixcontributors, this book presents an encyclopedic account ofbudgeting innovations today. Seven sections and twenty-ninechapters cover everything from current basic processes to theuncertain future of budgeting. Handbook of Government Budgeting isthe definitive resource for anyone interested in the waysgovernments acquire and spAnd money.

Nationally and internationally respected experts such as Bob Bland,Naomi Caiden, James Chan, Philip Cooper, Larry Jones, A. Premchand,Irene Rubin, and Barry White offer the reader a full spectrum ofinformation and ideas gleaned from a broad base of practice andresearch. The contributors are authorities in the fields ofpolitical science, economics, accounting, and management. Theyinclude executives, managers, analysts, consultants, and academicswho have studied or worked with governments. The combined wisdom ofthese experts ensures the most concise, complete, andthought-provoking compilation concerning government budgetingtoday.

Each section of the Handbook of Government Budgeting presentsmultiple chapters offering different perspectives on budgetarysubjects. Topics include: an overview of government budgeting;credit markets, the economy, and budget balancing; taxation inbudgeting; the informational foundations of budgeting; budgeting byinstitutions; politics, management, and analysis in budgeting; andbudgeting over time for large amounts. This comprehensive volumewill prove a priceless tool to government professionals as well asprofessors of budgeting courses. Budgeting students andpractitioners will find up-to-date information on the latest budgetissues and politics in governments across federal, state, and locallevels.

The teaching supplement is available directly from theauthor.

Interested parties should e-mail him at meyers@umbc.edu.
Table of contents
AN OVERVIEW OF GOVERNMENT BUDGETING.

Features of the Budgetary Process (J. McCaffery).

Understanding the Role of Conflict in Budgeting (I. Rubin).

Financial Management Reform in the Federal Government (L. Jones& J. McCaffery).

Budgetary Management in the United States and in Australia, NewZealand, and the United Kingdom (A. Premchand).

CREDIT MARKETS, THE ECONOMY, AND BUDGET BALANCING.

Understanding and Using Government Financial Statements (J.Engstrom).

The Changing World of State and Local Debt Finance (M. Hackbart& J. Ramsey).

State and Local Government Budgeting: Coping with the BusinessCycle (M. Wolkoff).

The Federal Budget and Economic Management (V. Ooms, et al.).

The Rhetoric and Reality of Balancing Budgets (N. Caiden).

TAXATION IN BUDGETING.

The Major Tax Bases (J. Gravelle).

Addressing Tax Expenditures in the Budgetary Process (B.Davie).

Practical Methods for Projecting Revenues (S. Bretschneider &W. Gorr).

The Politics of Taxation (S. Pollack).

THE INFORMATIONAL FOUNDATIONS OF BUDGETING.

The Bases of Accounting for Budgeting and Financial Reporting (J.Chan).

Cost Measurement and Analysis (F. Thompson).

Information Technology for Financial Management (R. Miranda).

BUDGETING BY INSTITUTIONS.

Preparing Agency Budgets (J. Rogers & M. Brown).

Examining Budgets for Chief Executives (B. White).

Legislatures and Budgeting (R. Meyers).

Courts and Fiscal Decision Making (P. Cooper).

POLITICS, MANAGEMENT, AND ANALYSIS IN BUDGETING.

Cutback Budgeting (J. Savage & H. Schwartz).

Strategies for Spending Advocates (R. Meyers).

Budget Implementation (R. Handrick & J. Forrester).

Performance-Based Budgeting (P. Joyce).

Analytical Techniques for Budgeting (M. Mandell).

BUDGETING OVER TIME FOR LARGE AMOUNTS.

Budgeting for Capital Improvements (R. Bland & W.Clarke).

Budgeting for Entitlements (J. White).

Budgeting for Contingent Losses (M. Phaup & D.Torregrosa).

Conclusion.

The Future of Government Budgeting (R. Meyers).
Reviews
"Handbook of Government Budgeting not only covers traditionalground but the cutting edge of contemporary budget issues. For theinstructor, this book provides a valuable new source of analysis ofboth familiar issues and newer areas that are of increasingimportance. For the practitioner, the book provides an excellentsource of authoritative information across a wide range ofspecialties. Roy Meyers has included authors who have been pioneersin the development of new budgetary techniques, and whose work isnormally available only to insiders." (David G. Mathiasen, formersenior executive, White House Office of Management and Budget andthe U.S. General Accounting Office)

"Handbook of Government Budgeting represents a well-thought-outdesign which will support most standard textbooks in the field. Itfeatures well-written works by many of today's best budgetthinkers: individuals who are at the cutting edge of many budgetingareas. This stimulating book will be of great value to bothundergraduate and graduate budgeting courses and to practitionerswho have an interest in current budgetary thinking. ProfessorMeyer's contribution should serve our field well for a number ofyears." (Richard E. Zody, professor, Department of Urban Affairsand Planning, and director, Institute for Public Management,Virginia Polytechnic Institute & State University)

"This is a fine text for guiding novitiates and seasoned budgetersalike through the vast variety of disciplines that make up theworld of budget and finance. The book strikes an effective balancebetween essential technical processes and the political realitiesembedded in spAnding the public's money." (Karen A. Stanford,executive director, Florida Commission on Government Accountabilityto the People)