Handbook of Green Chemistry, 9 Volume Set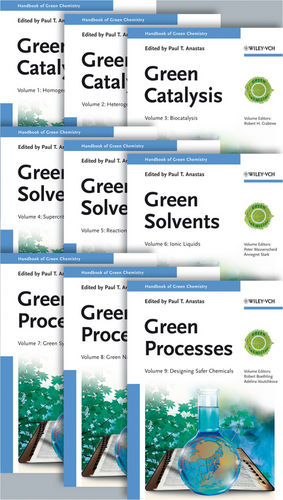 Handbook of Green Chemistry, 9 Volume Set
ISBN: 978-3-527-33710-1
Sep 2013
3820 pages
Product not available for purchase
Description
This HANDBOOK OF GREEN CHEMISTRY supplies the one-stop reference for everything readers need to know about this field. Edited by Paul Anastas, one of the inventors of the twelve principles of green chemistry, the work covers topics like green solvents, catalysis, green synthesis and many more. With top international expert contributors, it presents the essential set of innovative scientific solutions to real-world environmental situations.
The Handbook of Green Chemistry comprises of 9 volumes in total, split into 3 subject-specific sets. The three sets are available individually. All 9 volumes are available individually, too.

Set I: Green Catalysis
- Volume 1: Homogeneous Catalysis
- Volume 2: Heterogeneous Catalysis
- Volume 3: Biocatalysis

Set II: Green Solvents
- Volume 4: Supercritical Solvents
- Volume 5: Reactions in Water
- Volume 6: Ionic Liquids

Set III: Green Processes
- Volume 7: Green Synthesis
- Volume 8: Green Nanoscience
- Volume 9: Designing Safer Chemicals

The Handbook of Green Chemistry is also available as Online Edition.


GREEN CATALYSIS (Vol.1 -
Vol.3)
Heterogeneous Catalysis
Homogeneous Catalysis
Biocatalysis

GREEN SOLVENTS (Vol.4 -
Vol.6)
Supercritical Solvents
Reactions in Water
Ionic Liquids

GREEN PROCESSES (Vol.7 -
Vol.9)
Green Synthesis
Green Nanoscience
Designing Safer Chemicals