Handbook of Health Care Management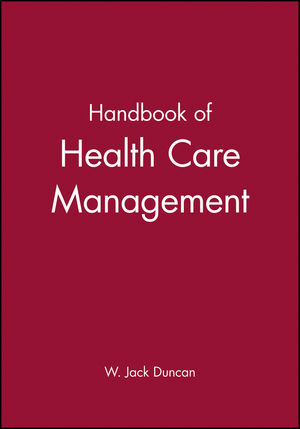 Handbook of Health Care Management
ISBN: 978-1-557-86833-6 December 1997 610 Pages
Description
The Handbook for Health Care Management is about management and the manager's real and potential contribution to a more effective and efficient health care system.
Part I: Managing Relationships in Health Care:.
1. Effective Stakeholder Relations.
2. Managing Customer Relations.
3. Strategic Alliances.
4. Designing Health Care Organisations for the future.
5. Strategic Management.
Part II: Organisational Process in Health Care:.
6. Building Effective Health Care Teams.
7. Visionary Leadership in Health Care.
8. Organisational Change and Innovation.
9. Motivating Effective Performance.
Part III: Tools of Health Care Management:.
10. Health Care Finance.
11. Health Economics.
12. Health Information Systems.
13. Health Care Marketing.
14. Total Quality Management.


Provides the results of outstanding academic research and assessment of the topics of concern to health care managers.


Each chapter is written by an active researcher in the field health care management, many of whom have actual managerial care organizations.


Each chapter represents the latest in academic research but is orientated toward applications rather than theory building.