Handbook of Human Performance Technology: Principles, Practices, and Potential, 3rd Edition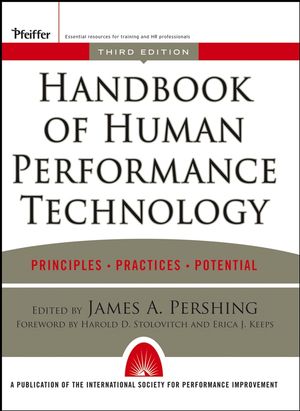 Handbook of Human Performance Technology: Principles, Practices, and Potential, 3rd Edition
ISBN: 978-0-787-98445-8 May 2006 Pfeiffer 1408 Pages
Description
The first two editions of the
Handbook of Human Performance Technology
helped define the rapidly growing and vibrant field of human performance technology - a systematic approach to improving individual and organizational performance. Exhaustively researched, this comprehensive sourcebook not only updates key foundational chapters on organizational change, evaluation, instructional design, and motivation, but it also features breakthrough chapters on "performance technology in action" and addresses many new topics in the field, such as certification, Six Sigma, and communities of practice.
Boasting fifty-five new chapters, contributors to this new edition comprise a veritable "who's who" in the field of performance improvement, including Geary Rummler, Roger Kaufman, Ruth Clark, Allison Rossett, Margo Murray, Judith Hale, Dana and James Robinson, and many others.
Praise for the third edition of the Handbook of Human Performance Technology
"If you are in the business of trying to improve organizational performance, this Handbook should be the first place you look for answers to questions about human performance technology."
- Joseph J. Durzo, CPT, Ph.D., senior vice president and chief learning officer, Archstone-Smith
"This newest edition of the Handbook provides an unparalleled, all-encompassing survey of the latest theory and its practical application in this emergent field. This book is a must-have reference for any professional wishing to systematically improve performance within their organization."
- Weston McMillan, CPT, manager, training and development, eBay Inc.
"An invaluable, engaging resource for anyone charged with improving workplace performance. It not only provides the background and foundations of our profession, but more importantly, it also provides the most up-to-date descriptions of how to apply HPT to drive results."
- Rodger Stotz, CPT, vice president and managing consultant, Maritz Inc.
"This book is filled with insights--both for those who are new to the field and also for those who are experienced. It offers concrete advice and examples on how to use HPT to impact business results and how to work successfully within organizations."
- Anne Marie Laures, CPT, director, learning services, Walgreen Co.
"The Handbook contains many of the secrets for improving the performance of individuals, groups, and organizations."
- Robert F. Mager, author, Analyzing Performance Problems and How to Turn Learners On...Without Turning Them Off
Table of contents
Foreword to the Third Edition (
Harold D. Stolovitch, Erica J. Keeps
).
Preface.
Acknowledgments.
The Editor and Editorial Advisory Board.
Foreword to the First Edition (Thomas F. Gilbert).
Foreword to the Second Edition (Robert F. Mager).
PART ONE: FOUNDATIONS OF HUMAN PERFORMANCE TECHNOLOGY (Monique Mueller, editor).
1 Human Performance Technology Fundamentals (James A. Pershing).
2 The Performance Architect's Essential Guide to the Performance Technology Landscape (Roger M. Addison, Carol Haig).
3 Business Perspectives for Performance Technologists (Kenneth H. Silber, Lynn Kearny).
4 Performance Improvement: Enabling Commitment to Changing Performance Requirements (William R. Daniels, Timm J. Esque).
5 Systemic Issues (Dale M. Brethower).
6 Mega Planning and Thinking: Defining and Achieving Measurable Success (Roger Kaufman).
7 The Origins and Evolution of Human Performance Technology (Camille Ferond).
PART TWO: THE PERFORMANCE TECHNOLOGY PROCESS (Jim Hill, editor).
8 Aligning Human Performance Technology Decisions with an Organization's Strategic Direction (Ryan Watkins).
9 Analysis and More (Allison Rossett).
10 Requirements: The Bridge Between Analysis and Design (Ray Svenson).
11 Modeling Mastery Performance and Systematically Deriving the Enablers for Performance Improvement (Guy W. Wallace).
12 Dimensions of Organizational Change (Larissa V. Malopinsky, Gihan Osman).
13 Using Evaluation to Measure and Improve the Effectiveness of Human Performance Technology Initiatives (Robert O. Brinkerhoff).
14 The Full Scoop on Full-Scope Evaluation (Joan C. Dessinger, James L. Moseley).
PART THREE: INTERVENTIONS AT THE WORKER AND WORK TEAM LEVELS (Karen L. Medsker, editor).
15 Instruction as an Intervention (Michael Molenda, James D. Russell).
16 Designing Instructional Strategies: A Cognitive Perspective (Kenneth H. Silber, Wellesley R. Foshay).
17 Games and Simulations for Training: From Group Activities to Virtual Reality (Robert L. Appelman, John H. Wilson).
18 Distance Training (José Manuel Ochoa-Alcántar, Christy M. Borders, Barbara A. Bichelmeyer).
19 Innovations in Performance Improvement with Mentoring (Margo Murray).
20 Motivating Individuals, Teams, and Organizations (Richard E. Clark).
21 Shifting Organizational Alignment from Behavior to Values (Anthony W. Marker).
22 Principles and Practices of Work-Group Performance (Michael F. Cassidy, Megan M. Cassidy).
23 Performance Support Systems (Steven W. Villachica, Deborah L. Stone, John Endicott).
PART FOUR: INTERVENTIONS AT THE WORKPLACE AND ORGANIZATIONAL LEVELS (Mark J. Lauer, editor).
24 The Impact of Organizational Development (Brian Desautels).
25 The Fifth Discipline: A Systems Learning Model for Building High-Performing Learning Organizations (M. Jeanne Girard, Joseph Lapides, Charles M. Roe).
26 Knowledge Management, Organizational Performance, and Human Performance Technology (Debra Haney).
27 Coming to Terms with Communities of Practice: A Definition and Operational Criteria (Sasha Barab, Scott J. Warren, Rodrigo del Valle, Fang Fang).
28 Workplace Design (Karen L. Medsker).
29 Six Sigma: Increasing Human Performance Technology Value and Results (Darlene M. Van Tiem, Joan C. Dessinger, James L. Moseley).
30 Normal Excellence: Lean Human Performance Technology and the Toyota Production System (Joachim Knuf, Mark J. Lauer).
PART FIVE: PERFORMANCE MEASUREMENT AND ASSESSMENT (Jana L. Pershing, editor).
31 A Commentary on Quantitative and Qualitative Methods: Myths and Realities (Jana L. Pershing).
32 Constructing Effective Questionnaires (Sung Heum Lee).
33 Interviewing to Analyze and Evaluate Human Performance Technology (Jana L. Pershing).
34 Observation Methods for Human Performance Technology (James A. Pershing, Scott J. Warren, Daniel T. Rowe).
35 Using Content Analysis in Human Performance Technology (Erika R. Gilmore).
36 Quantitative Data Analyses (Mary Norris Thomas).
37 Evidence-Based Practice and Professionalization of Human Performance Technology (Ruth Colvin Clark).
PART SIX: PERFORMANCE TECHNOLOGY IN ACTION (Debra Haney, editor).
38 Making the Transition from a Learning to a Performance Function (Dana Gaines Robinson, James C. Robinson).
39 Using an HPT Model to Become Management's Partner (Danny Langdon).
40 Managing Human Performance Technology Projects (Nicholas Andreadis).
41 Leadership in Performance Consulting (Roger Chevalier).
42 The Anatomy of Performance: A Framework for Consultants (Geary A. Rummler).
43 Certification: An Alignment Intervention (Judith A. Hale).
44 Standards and Ethics in Human Performance Technology (Ingrid J. Guerra).
45 Professional Ethics: A Matter of Duty (Jim Hill).
46 Improving Human Performance by Employing a Top-Down Function Analysis Methodology in Navy Aircraft Design (Dennis Duke, Robert Guptill, Mark Hemenway, Wilbur Doddridge).
PART SEVEN: LOOKING FORWARD IN HUMAN ERFORMANCE TECHNOLOGY (Darlene M. Van Tiem, editor).
47 SWOT Analysis (Doug Leigh).
48 Sustainable Development and Human Performance Technology (Scott P. Schaffer, Therese M. Schmidt).
49 Rapid Reflection Throughout the Performance-Improvement Process (Sharon J. Korth, Brenda S. Levya-Gardner).
50 Appreciative Inquiry: Unraveling the Mystery of Accentuating the Positive (Darlene M. Van Tiem, Julie Lewis).
51 Comprehensive Performance Evaluation: Using Logic Models to Develop a Theory-Based Approach for Evaluation of Human Performance Technology Interventions (Barbara A. Bichelmeyer, Brian S. Horvitz).
52 Aligning the Human Performance System (John Amarant, Donald T. Tosti).
53 Systems, Measures, and Workers: Producing and Obscuring the System and Making Systemic Performance Improvement Difficult (Donald J. Winiecki).
54 Hidden Order of Human Performance Technology: Chaos and Complexity (Darlene M. Van Tiem, Swati Karve, Jennifer Rosenzweig).
55 Quantulumcunque Concerning the Future Development of Performance Technology (Klaus D. Wittkuhn).
About the Editor.
About the Contributors.
The International Society for Performance Improvement.
Name Index.
Subject Index.
Addendum to the Copyright Page.
New To This Edition
Includes key theoretical and research findings, and provides an array of models and techniques that have proven effective in enhancing individual and organizational performance. 

 Exhaustively researched and revised, the Third Edition features breakthrough chapters on the emergence and application of technology for HPT and highlights important new topics in the field, including partnering with management, certification, ethics, Six Sigma, communities of practice, and performance architecture.

Contributors to the volume are leaders in the field of performance improvement, including Geary Rummler, Roger Kaufman, Ruth Clark, Allison Rossett, Dale Brethower, Ken Silber, Margo Murray, Richard Clark, Danny Langdon, Judy Hale, Dana and James Robinson, and many others.