Handbook of Human Resource Management in Government, 3rd Edition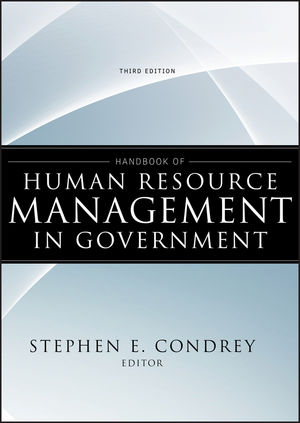 Handbook of Human Resource Management in Government, 3rd Edition
ISBN: 978-0-470-48404-3
Aug 2010, Jossey-Bass
1056 pages
Description
HANDBOOK OF HUMAN RESOURCE MANAGEMENT IN GOVERNMENT, THIRD EDITION
The practice of public human resource management has evolved significantly in recent years due to increased outsourcing, privatization, and the diminution of public employee rights. This thoroughly revised and updated edition of the classic reference Handbook of Human Resource Management in Government offers authoritative, state-of-the-art information for public administrators and human resource professionals. The third edition features contributions from noted experts in the field, including Donald E. Klingner, Mary E. Guy, Jonathan P. West, Jeffrey L. Brudney, Montgomery Van Wart, J. J. Steven Ott, Norma M. Riccucci, and many more.
Praise for the Handbook of Human Resource Management in Government
"This third edition of the Handbook of Human Resource Management in Government is an essential resource for scholars, practitioners, and general readers in need of concise summaries of up-to-date, cutting-edge, public personnel administration research. No other handbook on the market more concisely, more comprehensively, more clearly synthesizes this vast, rapidly changing field that remains so vital to effective government performance."
—RICHARD STILLMAN, editor-in-chief, Public Administration Review
"The Handbook of Human Resource Management in Government comprehensively and seamlessly blends theory and practice. The result is a clear road map that can finally make HR a key player in helping the government meet the unprecedented challenges facing our nation, our states, and our communities."
—BOB LAVIGNA, vice president, Research, Partnership for Public Service, Washington, DC
"With each successive edition, Condrey's Handbook of Human Resource Management in Government becomes a more essential tool for graduate students who wish to improve their understanding of this field. Condrey's own expertise has enabled him to take contributions from leading experts in the field and shape them into a reader that is comprehensive, engaging, and authoritative."
—DONALD E. KLINGNER, University of Colorado Distinguished Professor, School of Public Affairs, University of Colorado at Colorado Springs; former president, American Society for Public Administration; and fellow, National Academy of Public Administration
Tables, Figures, and Exhibits xi
Preface xv
Acknowledgments xix
The Editor xxi
The Contributors xxiii
Introduction: Toward Relevant Human Resource Management xxxix
PART ONE: HUMAN RESOURCE MANAGEMENT IN A CHANGING ENVIRONMENT 1
1 The Changing Roles of the Human Resource Office 5
Carolyn Ban, Charles W. Gossett
2 Human Resource Management in a Human Capital Environment 27
R. Paul Battaglio Jr., Jared J. Llorens
3 Beyond Civil Service: The Politics of the Emergent Paradigms 45
Dahlia Lynn, Donald E. Klingner
4 Civil Service Reform in the United States: Patterns and Trends 73
J. Edward Kellough, Lloyd G. Nigro
PART TWO: THE PUBLIC SECTOR WORKFORCE 95
5 Staffing the Bureaucracy: Employee Recruitment and Selection 99
Steven W. Hays, Jessica E. Sowa
6 Managing the Flexible Public Workforce: Issues and Implications 129
Sharon H. Mastracci, James R. Thompson
7 Valuing Diversity in the Changing Workplace 149
Mary E. Guy, Meredith A. Newman
8 Managing an Aging Workforce: Trends, Issues, and Strategies 171
Jonathan P. West
9 Managing Technology in the Context of Public Human Resources 199
David H. Coursey
10 Using Volunteers in the Workplace 231
Jeffrey L. Brudney
PART THREE: MANAGING HUMAN RESOURCES 257
11 Going Beyond Human Resource Management Technique 261
David G. Carnevale, Kay Ham
12 Developing Practical Strategies for Maintaining Ethical Behavior 279
Mark D. Bradbury, Rex L. Facer II
13 Increasing Organizational Investment in Employee Development 299
Montgomery Van Wart
14 Understanding Organizational Climate and Culture 323
J. Steven Ott, Abdul M. Baksh
15 Conflict in the Workplace: Strategic Choices, Great Outcomes 349
Margaret S. Herrman
16 Working with Employee Unions 379
Robert M. Tobias
17 Managing Local Government Human Resources Around Catastrophic Events 403
Doug Goodman, P. Edward French, Stacey Mann
PART FOUR: THE LEGAL ENVIRONMENT OF HUMAN RESOURCE MANAGEMENT 419
18 The Legal Issues in Human Resource Management 423
Jerry Hartman, Gregory W. Homer, Alisa H. Reff
19 Affirmative Action 455
Norma M. Riccucci
20 Sexual Harassment 475
Michele M. Hoyman, Jamie R. McCall
21 The Americans with Disabilities Act 491
Christine B. Ledvinka
PART FIVE: EMPLOYEE MOTIVATION, ASSESSMENT, AND COMPENSATION 515
22 Motivating Employees: The Role of the Manager 519
Arie Halachmi, Theo van der Krogt
23 Designing Effective Performance Appraisal Systems 555
Dennis M. Daley
24 Applying Effective Job Analysis Methods 587
Mark R. Foster
25 Conducting Assessment Centers 615
C. R. Swanson, Mark R. Foster
26 Using Work Management and Job Evaluation Systems 635
Gilbert B. Siegel
27 Designing and Creating an Effective Compensation Plan 663
Gilbert B. Siegel
PART SIX: TOOLS FOR INTEGRATING HUMAN RESOURCES INTO THE ORGANIZATIONAL MISSION 687
28 Benchmarking Performance 691
David N. Ammons
29 Strategic Planning 715
Roger G. Brown
30 Conducting Practical Human Resource Management Research 735
Gary E. Roberts
31 Contracting for Human Resource Services: Outsourcing, Privatization, and Using Consultants 769
Glenn W. Rainey Jr.
32 Managing Employee Benefi ts: From Health Care to Pensions 817
N. Joseph Cayer
33 The Budgeting Process: The Role of the Human Resource Professional 835
Catherine C. Reese, Douglas J. Watson
Conclusion: Toward Effective Human Resource Management 861
Stephen E. Condrey
Online Resources 867
References 893
Name Index 983
Subject Index 989