Handbook of Industrial Robotics, 2nd Edition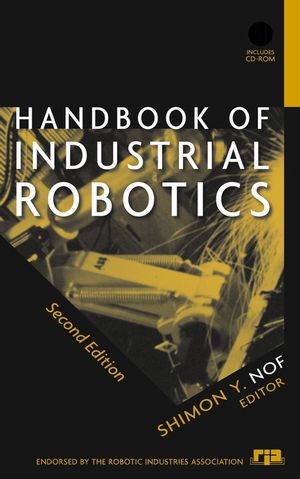 Handbook of Industrial Robotics, 2nd Edition
ISBN: 978-0-471-17783-8 March 1999 1378 Pages
Description
About the Handbook of Industrial Robotics, Second Edition:

"Once again, the Handbook of Industrial Robotics, in its Second Edition, explains the good ideas and knowledge that are needed for solutions." -Christopher B. Galvin, Chief Executive Officer, Motorola, Inc.

"The material covered in this Handbook reflects the new generation of robotics developments. It is a powerful educational resource for students, engineers, and managers, written by a leading team of robotics experts." - Yukio Hasegawa, Professor Emeritus, Waseda University, Japan.

"The Second Edition of the Handbook of Industrial Robotics organizes and systematizes the current expertise of industrial robotics and its forthcoming capabilities. These efforts are critical to solve the underlying problems of industry. This continuation is a source of power. I believe this Handbook will stimulate those who are concerned with industrial robots, and motivate them to be great contributors to the progress of industrial robotics." -Hiroshi Okuda, President, Toyota Motor Corporation.

"This Handbook describes very well the available and emerging robotics capabilities. It is a most comprehensive guide, including valuable information for both the providers and consumers of creative robotics applications." -Donald A. Vincent, Executive Vice President, Robotic Industries Association

120 leading experts from twelve countries have participated in creating this Second Edition of the Handbook of Industrial Robotics. Of its 66 chapters, 33 are new, covering important new topics in the theory, design, control, and applications of robotics. Other key features include a larger glossary of robotics terminology with over 800 terms and a CD-ROM that vividly conveys the colorful motions and intelligence of robotics. With contributions from the most prominent names in robotics worldwide, the Handbook remains the essential resource on all aspects of this complex subject.
Table of contents
Partial table of contents:

DEVELOPMENT OF INDUSTRIAL ROBOTICS.

Robots and Machine Intelligence (C. Rosen).

MECHANICAL DESIGN.

Mobile Robots and Walking Machines (H. Schempf).

Nanorobotics (A. Requicha).

CONTROL AND INTELLIGENCE.

Intelligent Control of Robot Mobility (R. Arkin).

PROGRAMMING AND INTELLIGENCE.

Group Behavior of Robots (G. Bekey & A. Agah).

ORGANIZATIONAL AND ECONOMIC ASPECTS.

Management Policies of Computer-Integrated Manufacturing/Robotics (A. Gunasekaran).

APPLICATIONS: PLANNING TECHNIQUES.

Robot Ergonomics: Optimizing Robot Work (S. Nof).

APPLICATIONS: DESIGN AND INTEGRATION.

A Strategy for Implementation of Robotics Projects (G. Soska).

ROBOTICS IN PROCESSES.

Fabrication and Processing (J. Black).

ROBOTICS IN OPERATIONS.

Assembly: Mechanical Products (D. Whitney).

ROBOTICS IN VARIOUS APPLICATIONS.

Process Industries (T. Jerney).

ROBOTICS AROUND THE WORLD.

Robotics Around the World (J. Ceroni, et al..

ROBOTICS TERMINOLOGY.

Index.

About the CD-ROM.