Handbook of Industrial Water Soluble Polymers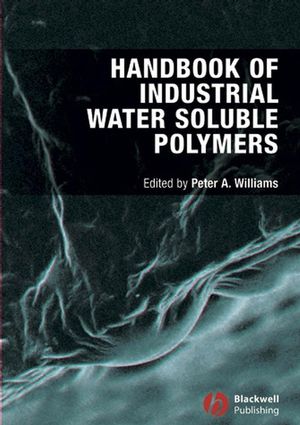 Handbook of Industrial Water Soluble Polymers
ISBN: 978-0-470-98870-1 November 2007 Wiley-Blackwell 344 Pages
Description
Natural and synthetic water soluble polymers are used in a wide range of familiar industrial and consumer products, including coatings and inks, papers, adhesives, cosmetics and personal care products. They perform a variety of functions without which these products would be significantly more expensive, less effective or both.


Written for research, development and formulation chemists, technologists and engineers at graduate level and beyond in the fine and specialty chemicals, polymers, food and pharmaceutical industries, the Handbook of Industrial Water Soluble Polymers deals specifically with the functional properties of both natural and synthetic water soluble polymers. By taking a function based approach, rather than a "polymer specific" approach the book illustrates how polymer structure leads to effect, and shows how different polymer types can be employed to achieve appropriate product properties.
1 Introduction.
2 Natural thickeners.
3 Acrylic polymers as rheology modifiers for water-based solutions.
4 Gelling agents.
5 Emulsification and encapsulation.
6 Polymeric flocculants.
7 Polymer micelles: amphiphilic block and graft copolymers as polymeric surfactants.
8 Applications of water soluble dendrimers.
9 Preparation, properties and applications of colloidal microgels.
10 Industrial water soluble polymers in packaging


A concise and accessible overview of the chemistry, technology and application of water soluble polymers, allowing the reader to rapidly and economically acquire a sophisticated working knowledge of these materials

Highly practical in approach, the book focuses on how polymer structure contributes to solution behaviour and shows how different polymer types can be employed to achieve appropriate product properties.

Primarily written by industrial chemists, the book offers a unique insight into the use of these materials.

Brings non-experts up to speed quickly and comprehensively, providing new entrants to a range of industries with a firm understanding of the basic chemistry and technology of colloidal systems.