Handbook of Information Security, Volume 1, Key Concepts, Infrastructure, Standards, and Protocols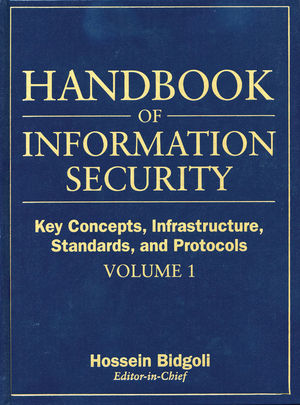 Handbook of Information Security, Volume 1, Key Concepts, Infrastructure, Standards, and Protocols
ISBN: 978-0-470-05119-1 March 2006 1120 Pages
Description
The Handbook of Information Security is a definitive 3-volume handbook that offers coverage of both established and cutting-edge theories and developments on information and computer security. The text contains 180 articles from over 200 leading experts, providing the benchmark resource for information security, network security, information privacy, and information warfare.
VOLUME I: KEY CONCEPTS, INFRASTRUCTURE, STANDARDS, AND PROTOCOLS.
Part 1: Key Concepts and Applications related to Information Security.
Part 2: Infrastructure for the Internet, Computer Networks, and Secure Information Transfer.
Part 3: Standards and Protocols for Secure Information Transfer.
VOLUME II: INFORMATION WARFARE; SOCIAL, LEGAL, AND INTERNATIONAL ISSUES; AND SECURITY FOUNDATIONS.
Part 1: Information Warfare.
Part 2: Social and Legal Issues.
Part 3: Foundations of Information, Computer and Network Security.
VOLUME III: THREATS, VULNERABILITIES, PREVENTION, DETECTION, AND MANAGEMENT.
Part 1: Threats, Vulnerabilities, Prevention, Detection, and Management.
Part 2: Prevention: Keeping the Hackers and Crackers at Bay.
Part 3: Detection, Recovery, Management, and Policy Considerations.