Handbook of International Trade: Economic and Legal Analyses of Trade Policy and Institutions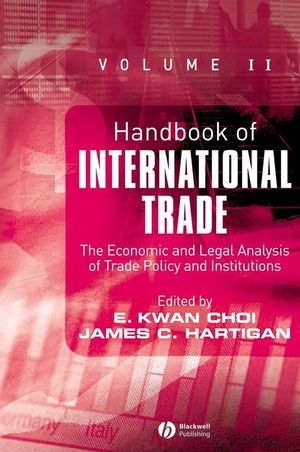 Handbook of International Trade: Economic and Legal Analyses of Trade Policy and Institutions
ISBN: 978-1-405-14251-9
Apr 2008, Wiley-Blackwell
592 pages
Description
This second volume of the Handbook of International Trade focuses on the economic and legal analysis of international laws and institutions as they impact trade.


Containing chapters written by both economic and legal scholars, this volume encourages cross-discipline discussion with writing that is accessible to those approaching the material from any background.


Central issues to those studying international trade are addressed, including:



labor, environmental rights, and preferential trade agreements

antitrust policy

patent rights

trade liberalization

foreign direct investment.
TABLE OF CONTENTS
.
Introduction: E. Kwan Choi (Iowa State University) and James C. Hartigan (University of Oklahoma).


What is Free Trade?: The Rorschach Test at the Heart of the Trade and Environment Debate: David M. Driesen (Syracuse University)

Rules of Power in an Age of Law: Process Opportunism and TRIPS Dispute Settlement: Ruth Okediji (University of Oklahoma)

Teaching Old Laws New Tricks: The Legal Obligation of Non-Attribution and the Need for Economic Rigor in Injury Analyses under US Trade Law: James P. Durling and Matthew P. McCullough (Willkie, Farr & Gallagher)

Trade-Related Labor and Environment Rights Agreements?: Chantal Thomas (Fordham University)

A Comparative Analysis of Compliance Institutions in International Law and International Environmental Law: Brett Frischmann (Loyola University Chicago)

The National Treatment Principle in International Trade Law: Michael J. Trebilcock and Shiva K. Giri (University of Toronto)

Do Not Ask Too Many Questions: The Institutional Arrangements for Accomodating Regional Integration within the WTO: Petros Constantinos Mavroidis (University of Neuchâtel)

Trade and Informal Institutions: James E. Anderson (Boston College)

The Economics of Preferential Trade Agreements: Pravin Krishna (Brown University)

Conditionality, Separation, and Open Rules in Multilateral Institutions: Paola Conconi (Université Libre de Bruxelles) and Carlo Perroni (University of Warwick)

Antitrust Policy in Open Economies: Price Fixing and International Cartels: Eric W. Bond (Pennsylvania State University)

Modern Commercial Policy: Managed Trade or Retaliation?: Thomas J. Prusa (Rutgers University) and Susan Skeath (Wellesley College)

Anti-Dumping versus Anti-Trust: Trade and Competition Policy: Ian Wooton (University of Strathclyde, Glasgow) and Maurizio Zanardi (Tilburg University, The Netherlands)

Trade and the Globalization of Patent Rights: Rod Falvey (University of Nottingham), Feli Martinez (University of Leicester) and Geoff Reed (University of Nottingham)

Mixed Markets with Counterfeit Producers: E. Kwan Choi (Iowa State University)

Endogenous Injury: James C. Hartigan (University of Oklahoma)

International Trade in Services: More Than Meets the Eye: Lawrence J. White (New York University)

The Dynamic Effects of Trade Liberalization and Environmental Policy Harmonization: Larry Karp (University of California, Berkley) and Jinhua Zhao (Iowa State University)

Do Bilateral Tax Treaties Promote Foreign Direct Investment?: Bruce A. Blonigen and Ronald B. Davies (University of Oregon)
.
Index
"This unique collection of papers includes much that will be of interest to both legal and economic scholars of international trade policy. Both will find surveys of important topics as well as original pieces of analysis." Alan Deardorff, University of Michigan


focuses on the economic and legal analysis of international laws and institutions as they impact trade

contains chapters written by both economic and legal scholars and encourages cross-discipline discussion with writing that is accessible to those approaching the material from any background

addresses central issues such as labor, environmental rights, and preferential trade agreements; antitrust policy; patent rights; trade liberalization; and foreign direct investment