Handbook of Materials Selection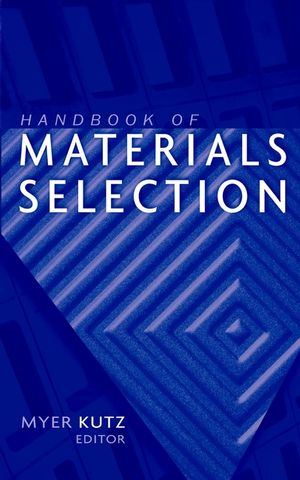 Handbook of Materials Selection
ISBN: 978-0-470-17255-1
Feb 2007
1520 pages
Description
An innovative resource for materials properties, their evaluation, and industrial applications
The Handbook of Materials Selection provides information and insight that can be employed in any discipline or industry to exploit the full range of materials in use today-metals, plastics, ceramics, and composites.
This comprehensive organization of the materials selection process includes analytical approaches to materials selection and extensive information about materials available in the marketplace, sources of properties data, procurement and data management, properties testing procedures and equipment, analysis of failure modes, manufacturing processes and assembly techniques, and applications. Throughout the handbook, an international roster of contributors with a broad range of experience conveys practical knowledge about materials and illustrates in detail how they are used in a wide variety of industries.
With more than 100 photographs of equipment and applications, as well as hundreds of graphs, charts, and tables, the Handbook of Materials Selection is a valuable reference for practicing engineers and designers, procurement and data managers, as well as teachers and students.
Preface.

Contributors.

PART 1: QUANTITATIVE METHODS OF MATERIALS SELECTION.

1. Quantitative Methods of Materials Selection (Mahmoud M. Farag).

PART 2: MAJOR MATERIALS.

2. Carbon and Alloy Steels (Bruce L. Bramfitt).

3. Stainless Steels (James Kelly).

4. Aluminum Alloys (J. G. Kaufman).

5. Copper and Copper Alloys (Konrad J. A. Kundig).

6. Selection of Titanium Alloys for Design (Matthew J. Donachie).

7. Nickel and Its Alloys (T. H. Bassford and Jim Hosier).

8. Magnesium and Its Alloys (Robert S. Busk).

9. Corrosion and Oxidation of Magnesium Alloys (D. Eliezer and H. Alves).

10. Selection of Superalloys for Design (Matthew J. Donachie and Stephen J. Donachie).

11. Plastics: Thermoplastics, Thermosets, and Elastomers (Edward N. Peters).

12. Composite Materials (Carl Zweben).

13. Smart Materials (James A. Harvey).

14. Overview of Ceramic Materials, Design, and Application (R. Nathan Katz).

PART 3: FINDING AND MANAGING MATERIALS INFORMATION AND DATA.

15 How to Find Materials Properties Data (Patricia E. Kirkwood).

16. Sources of Materials Data (J. G. Kaufman).

17. Managing Materials Data (Deborah Mies).

18. Information for Materials Procurement and Disposal (J. H. Westbrook).

PART 4: TESTING AND INSPECTION.

19. Testing of Metallic Materials (Peter C. McKeighan).

20. Plastics Testing (Vishu Shah).

21. Characterization and Identification of Plastics (Vishu Shah).

22. Professional and Testing Organizations (Vishu Shah).

23. Ceramics Testing (Shawn K. McGuire and Michael G. Jenkins).

24. Nondestructive Inspection (Robert L. Crane and Ward D. Rummel).

PART 5: FAILURE ANALYSIS.

25. Failure Modes: Performance and Service Requirements for Metals (J. A. Collins and S. R. Daniewicz).

26. Failure Analysis of Plastics (Vishu Shah).

27. Failure Modes: Performance and Service Requirements for Ceramics (Dietrich Munz).

28. Mechanical Reliability and Life Prediction for Brittle Materials (G. S. White, E. R. Fuller, Jr., and S. W. Freiman).

PART 6: MANUFACTURING.

29. Interaction of Materials Selection, Design, and Manufacturing Processes (Ronald A. Kohser).

30. Production Processes and Equipment for Metals (Magd E. Zohdi, William E. Biles, and Dennis B. Webster).

31. Metal Forming, Shaping, and Casting (Magd E. Zohdi, Dennis B. Webster, and William E. Biles).

32. Plastic Parts Processing I (William E. Biles).

33. Plastic Parts Processing II (Dean O. Harper).

34. Composites Fabrication Processes (Michael G. Bader).

35. Advanced Ceramics Processing (Lisa C. Klein).

PART 7: APPLICATIONS AND USES.

36. Spacecraft Applications of Advanced Composite Materials (Kevin R. Uleck, Paul J. Biermann, Jack C. Roberts, and Bonny M. Hilditch).

37. Selection of Materials for Biomedical Applications (Michele J. Grimm).

38. Selecting Materials for Medical Products (Sherwin Shang and Lecon Woo).

39. Materials in Electronic Packaging (Warren C. Fackler).

40. Advanced Materials in Sports Equipment (F. H. Froes).

41. Materials Selection for Wear Resistance (Andrew W. Phelps).

42. Diamond Films (Andrew W. Phelps).

43. Advanced Materials in Telecommunications (Glen R. Kowach and Ainissa G. Ramirez).

44. Using Composites (Hans J. Borstell).

45. Composites in Construction (Ayman S. Mosallam).

46. Design for Manufacture and Assembly with Plastics (James A. Harvey).

INDEX.
""...will undoubtedly become a classic of its genre..."" (Journal of Materials Technology)
""...a valuable reference..."" (Materials World, December 2002)