Handbook of Matrices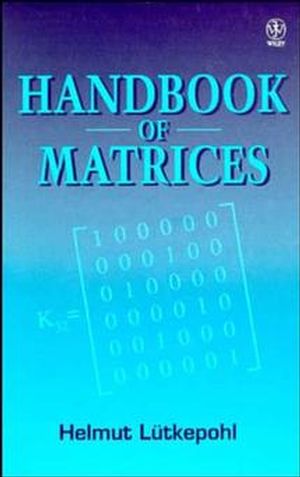 Handbook of Matrices
ISBN: 978-0-470-85944-5
Nov 2000
320 pages
Description
Matrices are used in many fields such as statistics, econometrics, mathematics, natural sciences and engineering. They provide a concise, simple method for describing long and complicated computations. This is a comprehensive handbook and dictionary of terms for matrix theory.
Definitions, Notations, Terminology.

Rules for Matrix Operations.

Matrix Valued Functions of a Matrix.

Trace, Determinant and Rank of a Matrix.

Eigenvalues and Singular Values.

Matrix Decompositions and Canonical Forms.

Vectorization Operators.

Vector and Matrix Norms.

Properties of Special Matrices.

Vector and Matrix Derivatives.

Polynomials, Power Series and Matrices.

Appendix.

References.

Index.