Handbook of Microscopy: Applications in Materials Science, Solid-State Physics, and Chemistry, Methods II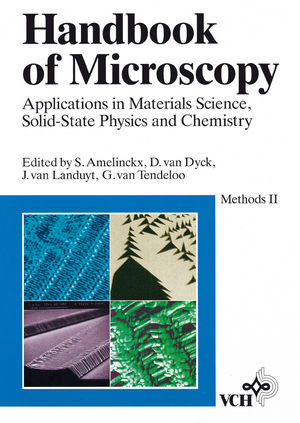 Handbook of Microscopy: Applications in Materials Science, Solid-State Physics, and Chemistry, Methods II
ISBN: 978-3-527-62053-1
Aug 2008
507 pages
Description
Comprehensive in coverage, written and edited by leading experts in the field, this Handbook is a definitive, up-to-date reference work. The Volumes Methods I and Methods II detail the physico-chemical basis and capabilities of the various microscopy techniques used in materials science. The Volume Applications illustrates the results obtained by all available methods for the main classes of materials, showing which technique can be successfully applied to a given material in order to obtain the desired information.

With the Handbook of Microscopy, scientists and engineers involved in materials characterization will be in a position to answer two key questions: "How does a given technique work?", and "Which techique is suitable for characterizing a given material?"
ELECTRON MICROSCOPY.
Scanning Beam Methods.
MAGNETIC METHODS.
Nuclear Magnetic Resonance.
Scanning Electron Microscopy with Polarization Analysis (SEMPA).
Spin-Polarized Low-Energy Electron Microscopy.
EMISSION METHODS.
Photoelectron Emission Microscopy.
Field Emission and Field Ion Microscopy (Including Atom Probe FIM).
SCANNING POINT PROBE TECHNIQUES.
Scanning Tunneling Microscopy.
Scanning Force Microscopy.
Magnetic Force Microscopy.
Ballistic Electron Emission Microscopy.
IMAGE RECORDING, HANDLING AND PROCESSING.
Image Recording in Microscopy.
Image Processing.
SPECIAL TOPICS.
Coincidence Microscopy.
Low Energy Electron Holography and Point-Projection Microscopy.