Handbook of Monochromatic XPS Spectra: The Elements of Native Oxides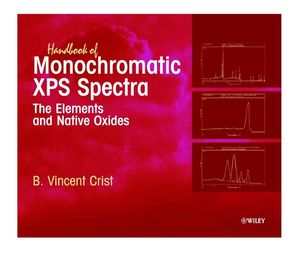 Handbook of Monochromatic XPS Spectra: The Elements of Native Oxides
ISBN: 978-0-471-49265-8 October 2000 548 Pages
Description
These three volumes provide comprehensive information about the instrument, the samples, and the methods used to collect the spectra. The spectra are presented on a landscape format and cover a wide variety of elements,polymers, semiconductors, and other materials.
Offers a clear presentation of spectra with the rightamount of experimental detail.
All of the experiments have been conducted under controlled conditions on the same instrument by aworld-renowned expert.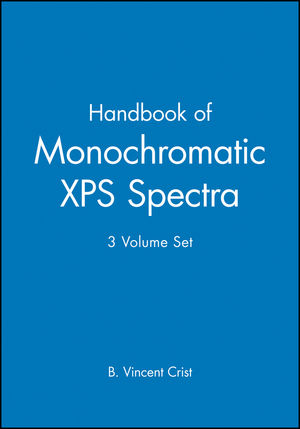 Buy Set of 3 Items
This item: Handbook of Monochromatic XPS Spectra: The Elements of Native Oxides
Original Price:$5,250.00
Purchased Together:$4,665.00
save $585.00
Table of contents
ORGANIZATION AND DETAILS OF SPECTRAL SETS.
Alphabetical Organization of Spectra.
Contents of Each Set of Spectra.
Philosophy of Data Collection Methods.
Peak-Fitting (Curve-Fitting) of High Energy Resolution Spectra.
Charge Compensation of Insulating Materials.
Abbreviations Used.
INSTRUMENT AND ANALYSIS DETAILS USED TO MAKE XPS DATA.
Instrument Details.
Experimental Details.
Data Processing Details.
Sample Details.
Energy Resolution Details.
Energy Scale Reference Energies and Calibration Details.
Electron Counting and Instrument Response Function Details.
Effects of Poorly Focusing the Distance between the Sample and the Electron Lens.
Quantitation Details and Choice of 'Sensitivity Exponents'.
Crude Tests of the Reliability of Relative Sensitivity Factors.
Traceability Details.
Reference Papers Describing the Capabilities of X-Probe, M-Probe, and S-Probe XPS Systems.
Reviews
"...a very good practical reference source." (IEEE Electrical Insulation Magazine, Vol. 19, No. 4, July-August 2003)