Handbook of Neuroscience for the Behavioral Sciences, Volume 1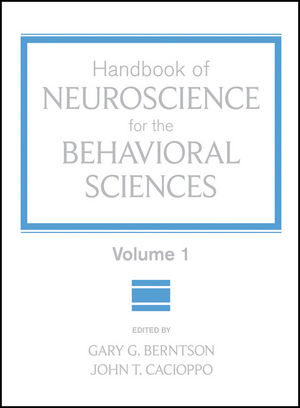 Handbook of Neuroscience for the Behavioral Sciences, Volume 1
ISBN: 978-0-470-08356-7 October 2009 1000 Pages
Description
As technology has made imaging of the brain noninvasive and inexpensive, nearly every psychologist in every subfield is using pictures of the brain to show biological connections to feelings and behavior. Handbook of Neuroscience for the Behavioral Sciences, Volume I provides psychologists and other behavioral scientists with a solid foundation in the increasingly critical field of neuroscience. Current and accessible, this volume provides the information they need to understand the new biological bases, research tools, and implications of brain and gene research as it relates to psychology.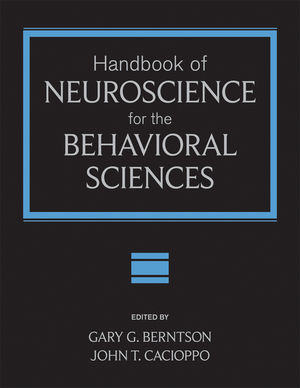 Original Price:$370.00
Purchased Together:$350.00
save $20.00
Preface.
Contributors to Volume 1.
PART I. FOUNDATIONS.
1. INTEGRATIVE NEUROSCIENCE FOR THE BEHAVIORAL SCIENCES: IMPLICATIONS FOR INDUCTIVE INFERENCE (John T. Cacioppo and Gary G. Berntson).
2. DEVELOPMENTAL NEUROSCIENCE (Myron A. Hofer).
3. COMPARATIVE COGNITION AND NEUROSCIENCE (Charles T. Snowdon and Katherine A. Cronin).
4. BIOLOGICAL RHYTHMS (Lance J. Kriegsfeld and Randy J. Nelson).
5. NEUROPHARMACOLOGY (Gary L. Wenk and Yannick Marchalant).
6. NEUROENDOCRINOLOGY: MECHANISMS BY WHICH HORMONES AFFECT BEHAVIORS (Donald W. Pfaff, Marc Tetel, and Justine Schober).
7. NEUROIMMUNOLOGY (Steven F. Maier and Linda R. Watkins).
8. NEUROANATOMY/NEUROPSYCHOLOGY (Bryan E. Kolb and Ian Q. Whishaw).
9. ESSENTIALS OF FUNCTIONAL NEUROIMAGING (Tor D. Wager, Luis Hernandez, and Martin A. Lindquist).
PART II. SENSATION AND PERCEPTION.
10. THALAMOCORTICAL RELATIONS (S. Murray Sherman).
11. VISION (Dale Purves).
12. AUDITION (Troy A. Hackett and Jon H. Kaas).
13. CHEMICAL SENSES (Susan P. Travers and Joseph B. Travers).
14. SOMATOSENSORY PROCESSES (Steven S. Hsiao and Pramodsingh H. Thakur).
15. PERSONAL AND EXTRAPERSONAL SPATIAL PERCEPTION (Giuseppe Vallar and Angelo Maravita).
16. THE MIRROR NEURON SYSTEM (Giacomo Rizzolatti and Maddalena Fabbri-Destro).
PART III. ATTENTION AND COGNITION.
17. VARIETIES OF ATTENTION (Amir Raz).
18. ATTENTIONAL MECHANISMS (Yalchin Abdullaev and Michael I. Posner).
19. MENTAL IMAGERY (Stephen M. Kosslyn, Giorgio Ganis, and William L. Thompson).
20. CATEGORIZATION (Michael L. Mack, Jennifer J. Richler, Thomas J. Palmeri, and Isabel Gauthier).
21. COGNITIVE NEUROSCIENCE OF THINKING (Vinod Goel).
22. MOTOR CONTROL: PYRAMIDAL, EXTRAPYRAMIDAL, AND LIMBIC MOTOR CONTROL (Krista McFarland).
23. NEURAL PERSPECTIVES ON ACTIVATION AND AROUSAL (Nicholas D. Schiff and Donald W. Pfaff).
24. SLEEP AND WAKING ACROSS THE LIFE SPAN (Reto Huber and Giulio Tononi).
25. CONSCIOUSNESS (Chadd M. Funk, Mary Colvin Putnam, and Michael S. Gazzaniga).
PART IV. LEARNING AND MEMORY.
26. NEURONAL BASIS OF LEARNING (Joseph E. Steinmetz and Derick H. Lindquist).
27. SYNAPTIC AND CELLULAR BASIS OF LEARNING (Craig H. Bailey and Eric R. Kandel).
28. MEMORY (Howard Eichenbaum).
29. PSYCHOLOGICAL AND NEURAL MECHANISMS OF SHORT-TERM MEMORY (Cindy Lustig, Marc G. Berman, Derek Evan Nee, Richard L. Lewis, Katherine Sledge Moore, and John Jonides).
30. FORGETTING AND RETRIEVAL (Brice A. Kuhl and Anthony D. Wagner).
31. EMOTIONAL MODULATION OF LEARNING AND MEMORY (Larry F. Cahill).
AUTHOR INDEX I-1.
SUBJECT INDEX I-49.