Handbook of Obstetric High Dependency Care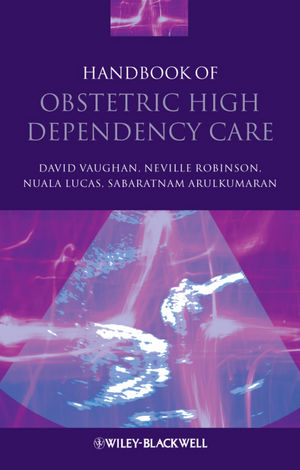 Handbook of Obstetric High Dependency Care
ISBN: 978-1-405-17821-1 October 2010 Wiley-Blackwell 192 Pages
Description
Concise practical guidance to managing an Obstetric High Dependency unit
The team and clinical environment is the starting point for the Handbook of Obstetric High Dependency Care. The book discusses the structure and requirements of a unit, both clinically and in terms of equipment, protocols and management aims. The main sections cover the investigation, diagnosis and management of clinical disease resulting from pregnancy and incidental to it.
Cannot be combined with any other offers.
Original Price:$236.94
Purchased together:$177.70
save $59.24
Table of contents
List of Abbreviations.
List of Figures.
List of Boxes.
Preface.
Chapter 1 Morbidity and Mortality in the Parturient.
Chapter 2 The Maternity High Dependency Unit.
PART I Emergency Care.
Chapter 3 Emergency Management of the Obstetric Patient – General Principles.
Chapter 4 Maternal and Neonatal Resuscitation.
PART II Clinical Problems.
Chapter 5 Headache.
Chapter 6 The Collapsed Patient.
Chapter 7 Convulsions.
Chapter 8 The Breathless Patient.
Chapter 9 The Wheezy Mother.
Chapter 10 Low Oxygen Saturation and Oxygen Therapy.
Chapter 11 Understanding Arterial Blood Gases.
Chapter 12 The Abnormal Chest X-Ray.
Chapter 13 Chest Pain.
Chapter 14 Abnormal Heart Rate, Rhythm or ECG Findings.
Chapter 15 High Blood Pressure.
Chapter 16 Low Blood Pressure.
Chapter 17 Bleeding and Transfusion.
Chapter 18 Rashes and Itching.
Chapter 19 Temperature and Infection.
Chapter 20 Abdominal Pain and Jaundice.
Chapter 21 Management of Pain on the MHDU.
Chapter 22 Immobility and Thromboembolic Disease.
Chapter 23 Abnormal Urine Output and Renal Function.
Chapter 24 Fluid Therapy.
Chapter 25 Abnormal Blood Results.
Chapter 26 Anaphylaxis.
Chapter 27 Local Anaesthetic Toxicity.
Selected Bibliography.
Index.