Handbook of Occupational Safety and Health, 3rd Edition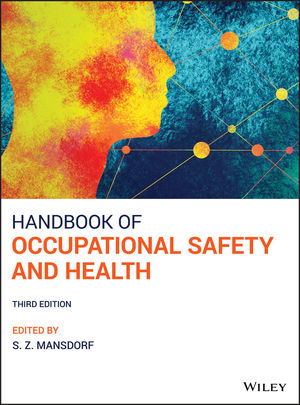 Handbook of Occupational Safety and Health, 3rd Edition
ISBN: 978-1-118-94726-5 April 2019 752 Pages
Description
A quick, easy-to-consult source of practical overviews on wide-ranging issues of concern for those responsible for the health and safety of workers
This new and completely revised edition of the popular Handbook is an ideal, go-to resource for those who need to anticipate, recognize, evaluate, and control conditions that can cause injury or illness to employees in the workplace. Devised as a "how-to" guide, it offers a mix of theory and practice while adding new and timely topics to its core chapters, including prevention by design, product stewardship, statistics for safety and health, safety and health management systems, safety and health management of international operations, and EHS auditing.
The new edition of Handbook of Occupational Safety and Health has been rearranged into topic sections to better categorize the flow of the chapters. Starting with a general introduction on management, it works its way up from recognition of hazards to safety evaluations and risk assessment. It continues on the health side beginning with chemical agents and ending with medical surveillance. The book also offers sections covering normal control practices, physical hazards, and management approaches (which focuses on legal issues and workers compensation).
Features new chapters on current developments like management systems, prevention by design, and statistics for safety and health
Written by a number of pioneers in the safety and health field
Offers fast overviews that enable individuals not formally trained in occupational safety to quickly get up to speed
Presents many chapters in a "how-to" format
Featuring contributions from numerous experts in the field, Handbook of Occupational Safety and Health, 3rd Edition is an excellent tool for promoting and maintaining the physical, mental, and social well-being of workers in all occupations and is important to a company's financial, moral, and legal welfare.
Table of contents
Contributors vii
Foreword ix
Part I Recognition and Control of Hazards 1
1. Recognition of Health Hazards in the Workplace 3
Martin R. Horowitz and Marilyn F. Hallock
2. Information Resources for Occupational Safety and Health Professionals 37
Ralph Stuart, James Stewart, and Robert Herrick
3. Ergonomics: Achieving System Balance Through Ergonomic Analysis and Control 49
Graciela M. Perez
4. Evaluation of Exposure to Chemical Agents 89
Jerry Lynch and Charles Chelton
5. Statistical Methods for Occupational Exposure Assessment 125
David L. Johnson
6. Evaluation and Management of Exposure to Infectious Agents 147
Janet M. Macher, Deborah Gold, Patricia Cruz, Jennifer L. Kyle, Timur S. Durrani, and Dennis Shusterman
7. Occupational Dermatoses 199
David E. Cohen
8. Indoor Air Quality in Nonindustrial Occupational Environments 231
Philip R. Morey and Richard Shaughnessy
9. Occupational Noise Exposure and Hearing Conservation 261
Charles P. Lichtenwalner and Kevin Michael
10. Heat Stress 335
Anne M. Venetta Richard and Ralph Collipi, Jr.
11. Radiation: Nonionizing and Ionizing Sources 359
Donald L. Haes, Jr., and Mitchell S. Galanek
12. Enterprise Risk Management: An Integrated Approach 381
Chris Laszcz‐Davis
13. Safety and Health in Product Stewardship 425
Thomas Grumbles
Part II General Control Practices 435
14. Prevention Through Design 437
Frank M. Renshaw
15. How to Select and Use Personal Protective Equipment 469
Richard J. Nill
16. Respiratory Protective Devices 495
James S. Johnson
17. How to Establish Industrial Loss Prevention and Fire Protection 531
Peter M. Bochnak
18. Philosophy and Management of Engineering Control 569
Pamela Greenley and William A. Burgess
19. Environmental Health and Safety (EHS) Auditing 613
Andrew McIntyre, Harmony Scofield, and Steven Trammell
Part III Management Approaches 639
20. Addressing Legal Requirements and Other Compliance Obligations 641
Thea Dunmire
21. Occupational Safety and Health Management 653
Fred A. Manuele
22. Effective Safety and Health Management Systems: Management Roles and Responsibilities 671
Fred A. Manuele
23. Safety and Health Management of International Operations 691
S. Z. Mansdorf
24. The Systems Approach to Managing Occupational Health and Safety 701
Victor M. Toy
Index 717