Handbook of Offender Assessment and Treatment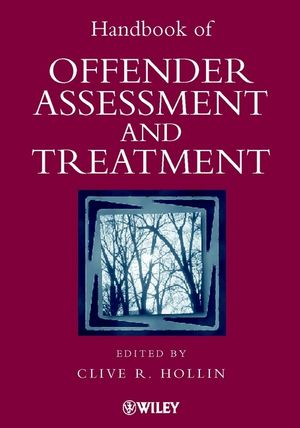 Handbook of Offender Assessment and Treatment
ISBN: 978-0-471-98858-8
Feb 2001
620 pages
Description
There is growing need to base the rehabilitation, prison regimes and treatment of offenders with special needs on research based methods and experience.This authoritative handbook will help you provide care for such offenders which is effective,humane and related o individual organisational and social considerations - whether based in community,residential prison or secure hospital settings.

The Handbook of Offender Assessment and Treatment provides a comprehensive guide to the whole range of approaches to treatment, including behavioural/cognitive,family work, reasoning and rehabilitation,and anger management.It goes on to examine the assessment of various categories of offenders such as child abusers,violent,mentally disordered offenders and sex offenders,and also looks a different ypes of reatment settings -in prisons,maximum security hospitals,residential settings and in the community.

ESSENTIAL RESOURCE THAT PROVIDES...
- Editor and contributors with wide-ranging understanding and extensive expertise in the field of offender treatment.
- A single-volume,authoritative,comprehensive and international reference.
About the Editor.
List of Contributors.
Preface.
TO TREAT OR NOT TO TREAT?
To Treat or Not to Treat?: An Historical Perspective (C. Hollin).
To Treat or Not to Treat?: An Empirical Perspective (D. Cooke L. Philip).
To Treat or Not to Treat?: A Financial Perspective (M. Cohen).

RISK ASSESSMENT.
Risk Assessment of Child Abuse (M. Herbert).
Assessing Violence Risk in Mentally and Personality Disordered Individuals (C. Webster G. Bailes).
Sex Offender Risk Assessment (R. Hanson).
Psychophysiology and Risk Assessment (W. Murphy).
Psychometric Assessment (G. Gudjonsson)
Case Material and Interview (A. Beech).

APPROACHES TO TREATMENT.
Behavioral Approaches to Correctional Management and Rehabilitation (M. Milan).
Therapeutic Community Treatment Programming in Corrections (D. Lipton).
Programming in Cognitive Skills: The Reasoning and Rehabilitation Programme (D. Robinson F. Porporino).
Intensive Supervision in Probation and Parole Settings (P. Gendreau, et al.).
Family-Based Treatments (C. Swenson, et al.).
Alternative Interventions for Juvenile Offenders: History of the Adolescent Diversion Project (W. Davidson, et al.).
Delinquency Prevention Programs in Schools (D. LeMarquand R. Tremblay).
Peer Group Therapy (J. Gibbs, et al.).
Skills Training (C. Hollin E. Palmer).
Anger Treatment with Offenders (R. Novaco, et al.).
Relapse Prevention: Reconceptualization and Revision (D. Laws).
Forensic Psychotherapy (C. Cordess).

ASSESSMENT AND TREATMENT OF OFFENDERS.
Adult Sexual Offenders Against Women (W. Marshall).
The Assessment and Treatment of Sexual Offenders Against Children (T. Ward, et al.).
Adolescent Sexual Offenders: Assessment and Treatment (S. Hudson T. Ward).
Criminal Justice Programmes for Men Who Assault Their Partners (R. Dobash R. Emerson Dobash).
Firesetters (D. Kolko).
Assessment and Treatment: Violent Offenders (D. Polaschek N. Reynolds).
Offenders with Major Mental Disorders (S. Hodgins).
Offenders with Mental Retardation (K. Day).
Offenders with Personality Disorders (M. McMurran).
Offenders with Drink and Drug Problems (M. McMurran).
Property Offences (J. McGuire).
Serial Offenders (D. Gresswell).

TREATMENT IN CONTEXT.
Treatment in High Security Hospitals (R. Blackburn).
Juvenile Offending: Treatment in Residential Settings (R. Bullock).
Treatment in the Community (G. McIvor).
Author Index.
Subject Index.
"…can be recommended confidently to anyone wishing to obtain up-to-date information…" (British Journal of Forensic Practice, Vol 6(1), February 2004)