Handbook of Organic Conductive Molecules and Polymers, Volume 2, Conductive Polymers: Synthesis and Electrical Properties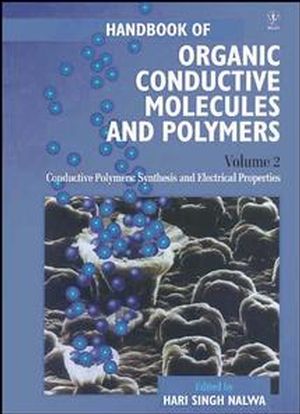 Handbook of Organic Conductive Molecules and Polymers, Volume 2, Conductive Polymers: Synthesis and Electrical Properties
ISBN: 978-0-470-86542-2
Nov 2000
888 pages
Description
Conductive polymers--polymers that conduct electricity--have applications in telecommunications, electronics, materials science, chemistry and physics. The four self-contained volumes of this handbook thoroughly explore all aspects of conductive polymers including chemical and physical properties, technology and applications.
Volume 2
Polyacetylene
S. Curran, et al.
Electrically Conductive Polyacetylene Copolymers
L. Leung
Synthesis and Properties of Processable Polythiophenes
K. Kaeriyama
Molecular Conductive Materials: Polythiophenes and Oligothiophenes
S. Hotta
Polythiophene and Polypyrrole Copolymers
R. Gumbs
Polyanilines
D. Trivedi
Silicon-Containing Thiophene Oligomers and Polymers: Synthesis, Characterization and Properties
J. Sauvajol, et al.
Conductive Polymer Blends and Composites
M.-A. De Paoli
Organometallic Conductive Polymers
H. Nishihara
Self-Doped Conductive Polymers
M. Abdou and S. Holdcroft
Index